When was the last time you cleaned your timepiece? Preserve and maintain it with this exclusive watch cleaning kit from Maison Des Montres. You get a complete apparatus designed to clean your watch to perfection.
Your timepiece is a reflection of your status, wealth, and character. Keeping it in pristine condition requires a consistent, systematic approach. With the Maison Des Montres watch cleaning kit, you get everything you need to ensure your timepiece looks as good as it did on the jeweler's showroom floor.
Don't waste time and money sending your watch to the jeweler for cleaning. Clean your watch in the comfort of your home with Maison Des Montres premium cleaning kit, in a few very easy steps.
Unboxing the Maison Des Montres Watch Cleaning Kit
From the moment you hold the Maison Des Montres elegant presentation box in your hands, you know this kit is designed for premium timepiece maintenance.
Slide open the drawer, and you'll find a welcome card with details on cleaning your watch and a QR code to scan to get a demonstration on how to use the Maison Des Montres watch cleaning kit.
You'll find the proprietary cleaning solution, a nano-bristle brush, and a microfiber cloth. The kit's presentation is exquisite, giving you everything you need to clean your watch.
Ideal for Stainless Steel and Precious Metals
Maison Des Montres spent years in research and development creating their specialised watch cleaning kit. Its proprietary solution features a unique formula tested on precious metals and stainless steel.
It's the ideal cleaning solution for multi-metal watches, removing any grime, residue or dirt from the timepiece. Maison Des Montres conducted several lab tests on its cleaning solution, showing its efficacy for cleaning stainless steel and precious metals without damaging the materials.
You can clean your watch confidently, knowing that you're using a top-rated watch cleaning system on the market.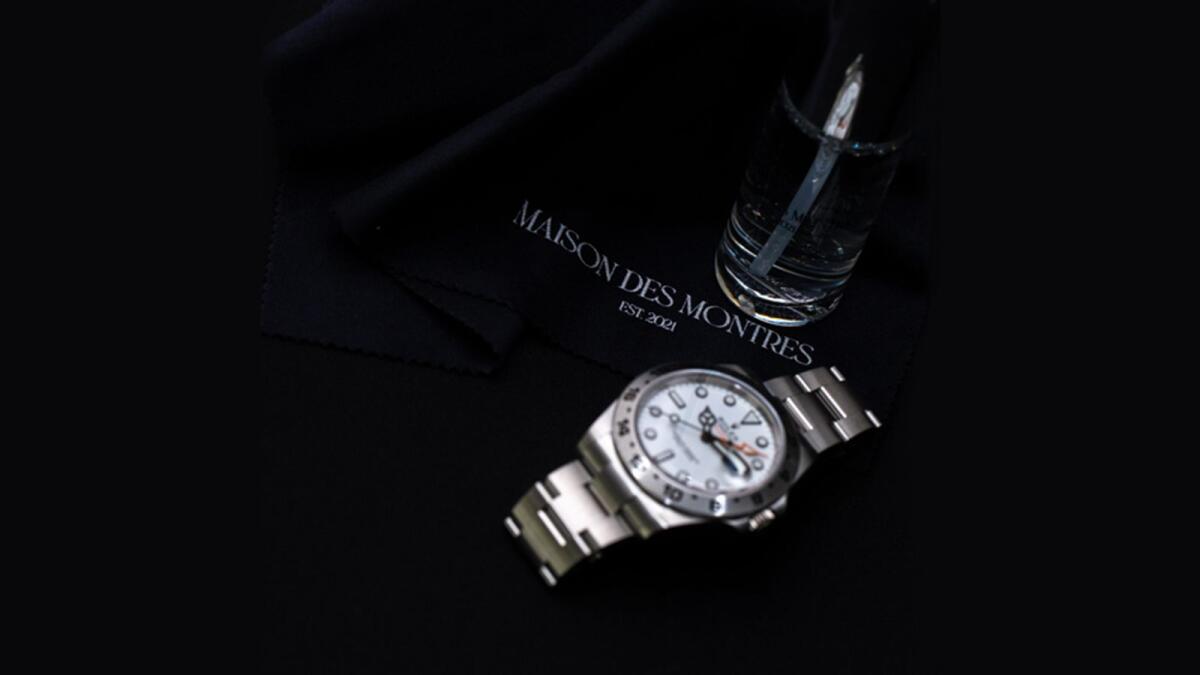 How To Use The Maison Des Montres Watch Cleaning Kit
Cleaning your timepiece with the Maison Des Montres kit is easy and only takes a few minutes. Start by opening the box and removing the welcome card. You get vital information on preparing your watch for the cleaning experience.
Scan the QR code on the welcome card, and you'll get an instructional video on how to conduct the cleaning process using the Maison Des Montres kit.
Spray the high-quality cleaning solution on your watch and the bracelet. Don't forget to open the clasp to allow it to penetrate the harder-to-reach areas. Take the nano-bristle cleaning brush and work it over the face and around the crown and the case of the watch.
Move on to cleaning the bracelet, and then rinse the watch under the tap until it's clean. The nano-bristle brush cleans the watch without scratching it.
Finish off your cleaning duties by drying the watch using the highly absorbent and soft microfiber cloth. That's it. Your timepiece is ready for use. It takes a few minutes to leave it in showroom condition.
Trusted By Leading Jewellers and Watchmakers
The Maison Des Montres Watch Cleaning Kit is highly demanded and it is trusted by leading jewelers and prestigious brands like Cartier, Boucheron, and Bvlgari. With this kit, you get a jeweller-approved system designed to clean your timepiece perfectly.
The Maison Des Montres Watch Cleaning Kit offers the same results as taking your timepiece to a professional jeweller for cleaning.
Ordering Your Maison Des Montres Watch Cleaning Kit
The Maison Des Montres Watch Cleaning Kit is available with worldwide express shipping. You get free shipping on orders received within the United Arab Emirates. However, the company charges shipping to all other destinations around the globe.
You can pay for your Maison Des Montres Watch Cleaning Kit using several methods, including VISA, MasterCard, American Express, and Apple Pay. Maison Des Montres offers you a 14-day money-back guarantee on your purchase.
The Maison Des Montres Watch Cleaning Kit currently retails for under $70. However, the results are spectacular, and we're confident you'll find it offers you excellent value for your money.
A High-Value Watch Cleaning Kit You Can't Live Without
Our experience is that once you start using the Maison Des Montres watch cleaning kit, you'll wonder how you ever managed without it. Your timepiece gets a thorough clean, with professional treatments in a single kit.
If you have a luxury timepiece or a collection of high-value or sentimental watches, the Maison Des Montres cleaning kit isn't 'nice to have;' it's an absolute necessity.
You get a selection of high-quality cleaning materials designed specifically for use on stainless steel and precious metals, ensuring your watch retains its luster and value for a lifetime.
Take action. Order the Maison Des Montres watch cleaning kit today. Keep your timepieces in pristine condition for an affordable price.
Follow Maison Des Montres on Instagram for the latest updates and special offers.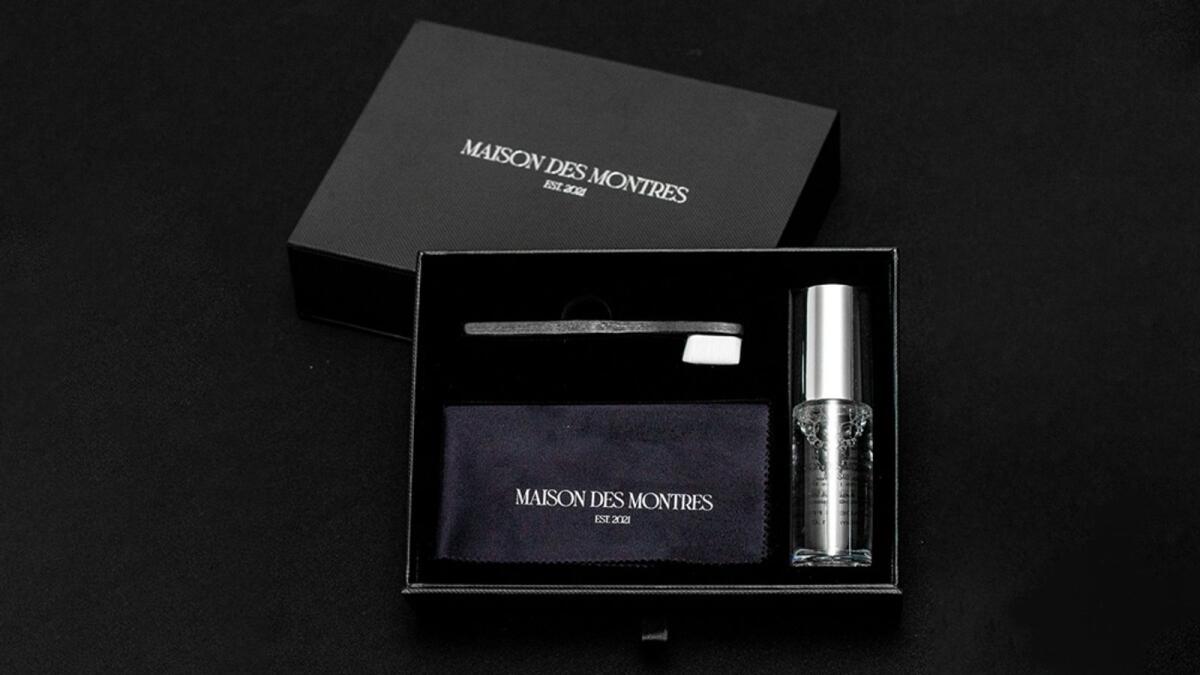 Read the full article here