Art Dubai, the Middle East's leading international art fair, is back for its 2023 edition with its most extensive and ambitious version yet.
The event, which opens to the public from March 3 to 5 at Madinat Jumeirah in Dubai, will feature over 130 contemporary, modern, and digital gallery presentations from six continents, including over 30 first-time participants.
The fair will be the largest and most extensive to date, featuring over 30 first-time participants and a diverse range of artwork from emerging talents and established names.
Visitors can expect to see an exciting range of gallery presentations across four main gallery sections: Contemporary, Modern, Bawwaba, and Art Dubai Digital.
Al Arabiya English got a sneak peek at what's in store for visitors. Here's what you can expect from this year's edition:
Contemporary Art
Art Dubai 2023. (Al Arabiya English/ Tala Michel Issa)
Art Dubai Contemporary, which showcases cutting-edge contemporary art, will feature works from 76 galleries and 34 countries, with a particular focus on the Global South.
The fair welcomes 14 first-time exhibitors and 12 returning galleries after a hiatus.
The 2023 edition will also feature more Dubai-based galleries than ever before, highlighting the growth of Dubai's artistic ecosystem and the emirate's increasing importance as a global creative and cultural hub.
Digital Art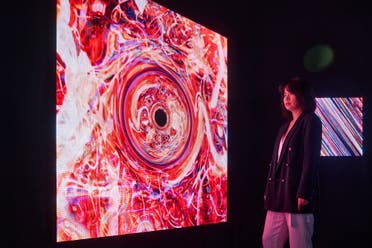 Art Dubai 2023. (Supplied)
Art Dubai Digital, which launched to critical and commercial success in 2022, returns in 2023. The section provides an annual snapshot of the digital art landscape, exploring how artists are utilizing new, immersive technologies to collapse the boundaries of the traditional art world.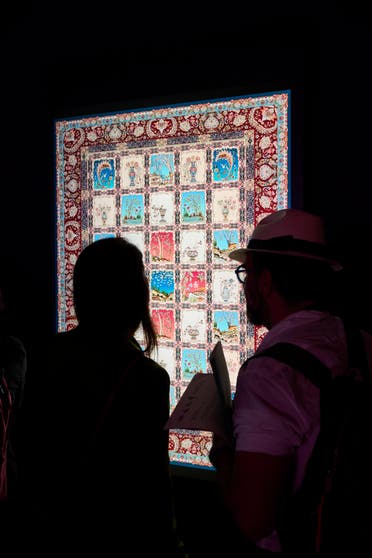 Art Dubai 2023. (Supplied)
Curated by Clara Che Wei Peh, the 2023 edition will focus on the artists, galleries, and institutions that are driving this fast-developing arena, drawing from across six continents.
Modern Art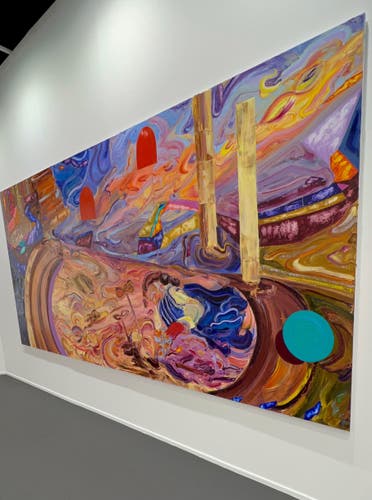 Art Dubai 2023. (Al Arabiya English/ Tala Michel Issa)
The 2023 edition of Art Dubai Modern is curated by Mouna Mekouar and Lorenzo Giusti and features solo presentations by the region's modern masters, reinforcing Art Dubai's commitment to curatorial scholarship and art historical research.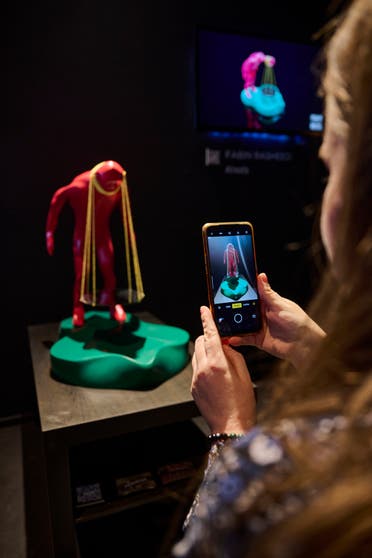 Art Dubai 2023. (Supplied)
The selection focuses on the pioneers of contemporary art in the MENASA area, reflecting the cultural richness and diversity of the region.
Bawwaba: South Asian artists take center stage
Bangkok-based Vipash Purichanont curates the 2023 edition of Art Dubai's Bawwaba section, meaning "gateway" in Arabic. The section exclusively features artworks made in the past year or specifically for Art Dubai. The fair will also feature a new commissioned performance program in partnership with leading South Asian galleries and institutions.
The program provides a platform for South Asian artists to showcase their talents and engage with a global audience.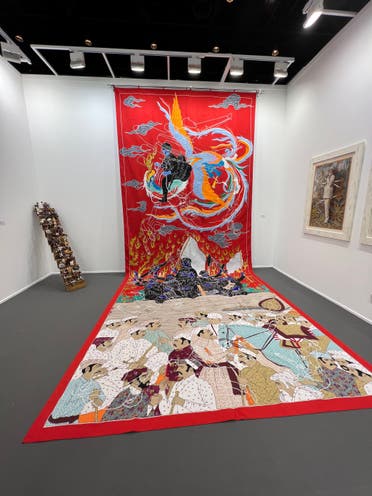 Art Dubai 2023. (Al Arabiya English/ Tala Michel Issa)
Renewing a commitment to creativity and innovation
"For nearly two decades, Art Dubai has been a place to discover and celebrate new trends, creating and facilitating conversations, and celebrating the strength of creative output across the Global South," said the art fair's Artistic Director Pablo del Val.
"Art Dubai is a truly global art fair, and this is reflected in both the quality and geographic spread of the galleries participating this year. That so much of the programme is once again drawn from the Global South highlights the increased interest in and appetite for collecting non-Western art, the strengthening of the gallery scene beyond the traditional centers of the art world, and the role Art Dubai plays as a platform for regions that are under-represented in international collections."
Art Dubai is more than an art fair; it is an incubator of talent, a catalyst for the creative economy in Dubai, a convener of great minds, and an entry point to the vibrant cultural sector in the region.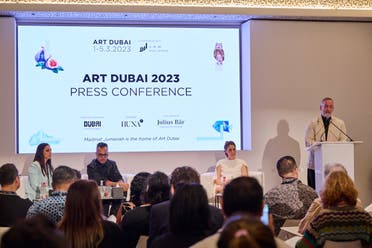 Art Dubai 2023 Opening Press Conference. Left to right: Hala Khayat, Regional Director, Art Dubai; Shumon Basar, Global Art Forum Commissioner, Art Dubai; Benedetta Ghione, Executive Director, Art Dubai and Pablo del Val, Artistic Director, Art Dubai. (Supplied)
"Art Dubai has always tried to reframe what an art fair can be, and this year's expanded programme fully reflects our role as a meeting point for the region's creative industries, across the commercial and not-for-profit sectors," said Art Dubai's Executive Director Benedetta Ghione.
"As an independent organisation, we pride ourselves on being more than an art fair – we are an incubator of talent, a catalyst for the creative economy here in Dubai, a convener of great minds, and an entry point to this vibrant ecosystem for the wider cultural sector."
Talks, workshops, and more
Art Dubai has been instrumental in promoting the development of the UAE's cultural ecosystem for almost two decades.
The fair provides a platform for leading artists, curators, technologists, and thinkers from around the world to exchange ideas, and this year's programme is no exception.
With more than 50 sessions planned across five days, Art Dubai's 2023 programme is a multi-level offering that includes conferences, talks, interactive artist-led workshops, and education programmes for families and schoolchildren.
The event's flagship summit, the Global Art Forum, will enter its 16th edition this year. This year's forum will explore the theme of "Predicting the Present" and feature leading speakers such as Sumayya Vally, architect of the 2021 Serpentine Pavilion, and Lukas Amacher, Head of Art at Dialectic and 1of1 works. Additionally, Art Dubai will collaborate with Christie's Art+Tech conference, which will make its Middle East debut, bringing together experts to explore topics related to AI, digital asset ownership, financial innovation, and blockchain.
In partnership with Dubai Collection, Art Dubai will also present a series of Collector and Modern Talks.
The Collector Talks will focus on the individuals and patrons driving the development of art scenes across the Global South, while the Modern Talks will delve into the 20th century artists and art forms from the Middle East and North Africa, and the decolonization of the art-historical canon.
Art Dubai 2023 will also mark the 10th edition of the fair's flagship initiative, Campus Art Dubai (CAD), which aims to develop the region's future cultural leaders.
CAD offers educational and professional opportunities for artists, curators, writers, architects, designers, and cultural producers in the UAE.
This year, CAD's Professional Development programme has expanded to include placements at Art Dubai, Alserkal Avenue, Art Jameel in Dubai, and Abu Dhabi's independent platform for emerging artists, 421. Additionally, CAD Public Art will aim to build sector knowledge and capacity in the rapidly developing field of public art commissioning.
The A.R.M. Holding Children's Programme, in its third year, is Art Dubai's largest cultural education initiative, reaching more than 8,000 children across more than 90 schools.
This year, leading Swedish artist Jacob Dahlgren will develop the programme, entitled The Flag Project.
The initiative invites children to think creatively about their environment, using everyday craft materials and scrap fabrics to collage together designs that will later be sewn and transformed into flags in an extension of the artist's ongoing project Signs of Abstraction.
Art Dubai will also collaborate with Art Business Conference on a special session focused on exploring sustainability in the art world. This session will bring together experts from across the industry to discuss and address the impact of art and its practices on the environment.
New immersive, NFT art gallery 37xDubai gears up for Dubai opening in 2023
Expo City Dubai hopes to bring the world together again during this Ramadan
Dubai Culture, Art Jameel announce an open call for major, new playpark-as-artwork
Read the full article here