The UAE has flown in the first batch of injured Palestinian children and women on a special flight from Egypt to Abu Dhabi this morning.
More than 50 passengers, including wounded individuals, medical staff, and top officials, were on board the Nesma flight, which landed at the Abu Dhabi International Airport from El Arish International Airport in Egypt.
Earlier this month, the President, His Highness Sheikh Mohamed bin Zayed Al Nahyan, issued an urgent directive to provide medical treatment at local hospitals for 1,000 Palestinian children from the Gaza Strip. This comes as part of the UAE's enduring efforts to extend assistance to those in need around the world.
As many as nine wounded children and women, including a pregnant lady, were carefully transported from an Airbus A320 flight to a fleet of waiting ambulances. The injured were shifted to ambulances on stretchers and wheelchairs.
Stay up to date with the latest news. Follow KT on WhatsApp Channels.
"We want treatment. My son is critically injured. I thank the UAE leadership. We feel safe and assured," said a mother, who was among those who crossed the borders from Gaza to Egypt.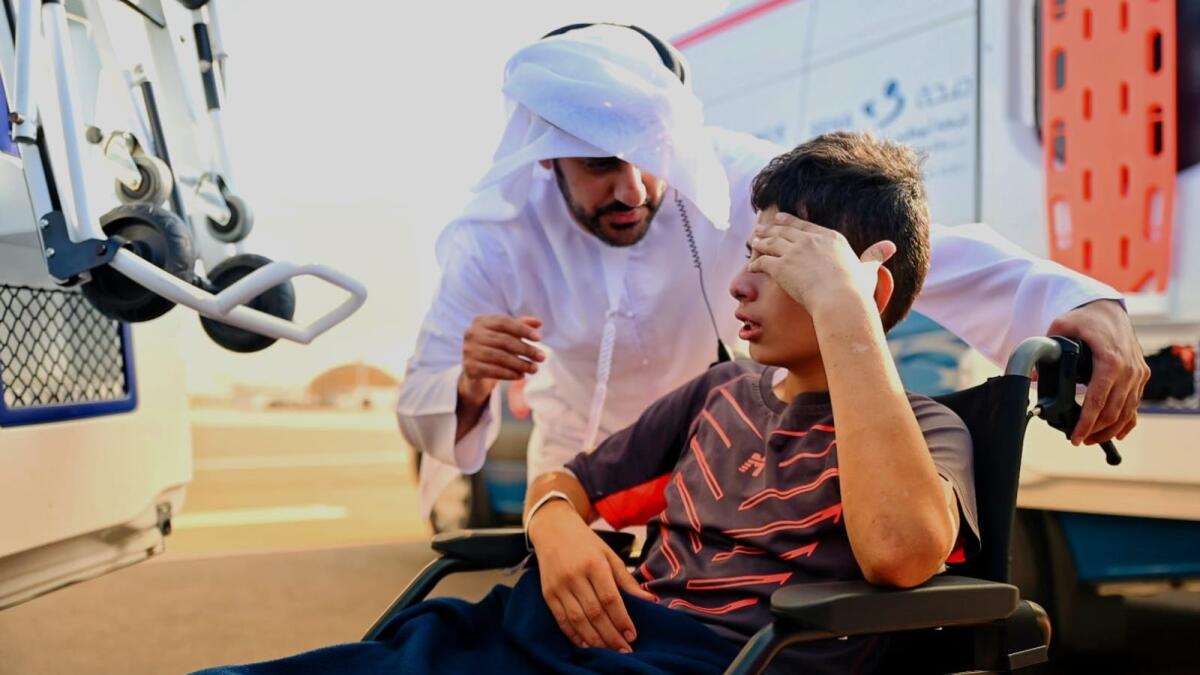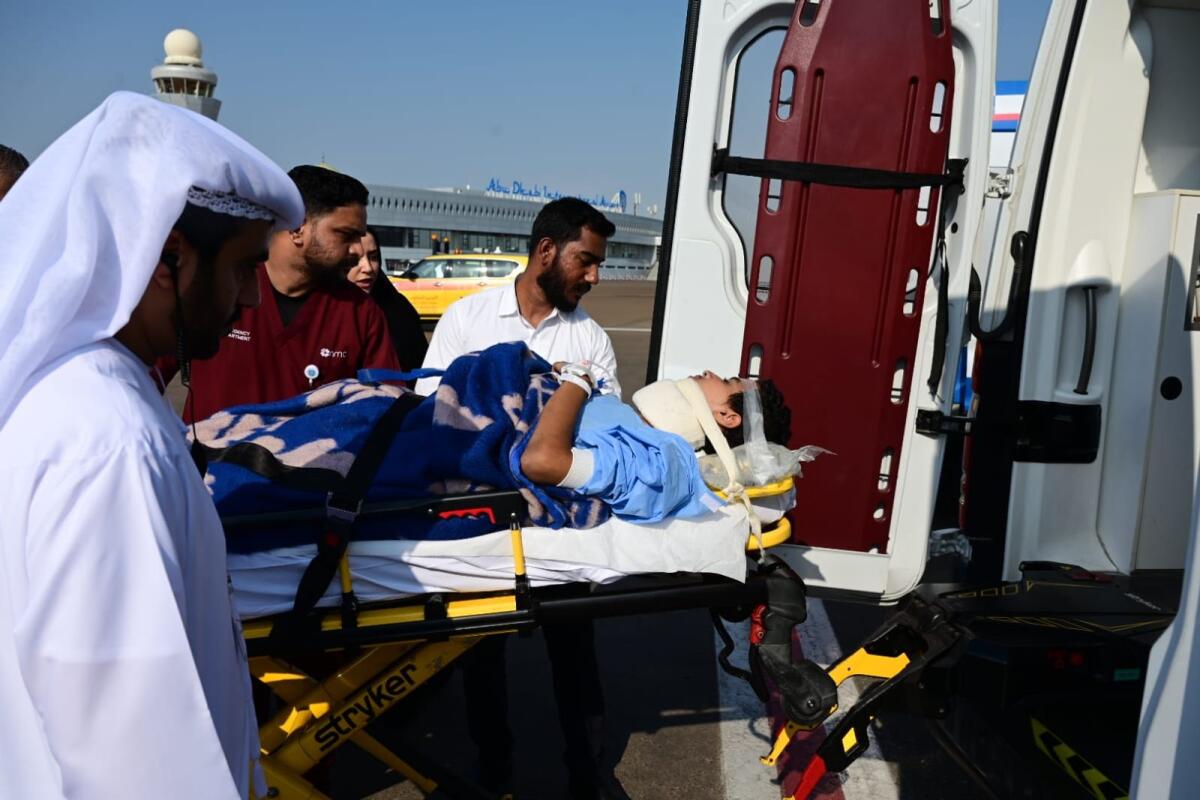 "This is the first of many flights. There will be more injured people being brought here," an official, who accompanied the patients on the flight, said.
Here's a video of the flight's arrival:
The injured patients have been transported to hospitals under Burjeel Holdings, NMC Healthcare, and Sheikh Khalifa Medical City, part of the Abu Dhabi Health Services Company (Seha) network, which is a PureHealth subsidiary.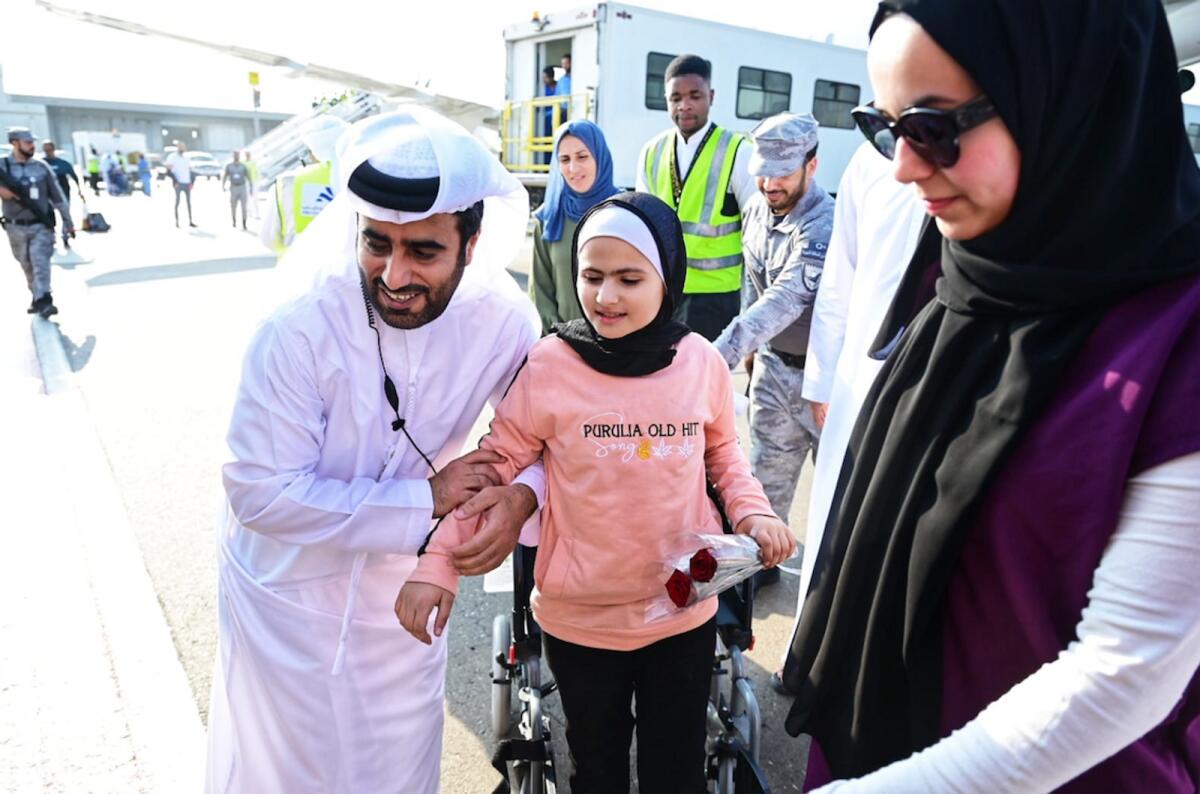 Photo by Shihab
Maha Barakat, assistant minister of Foreign Affairs for Health, emphasised that the UAE's hospitals are fully prepared to receive and take care of the remaining children and their families.
"Since the outbreak of the crisis, the UAE immediately provided urgent humanitarian aid and supplies to the Gaza Strip. In this regard, the President, Sheikh Mohamed bin Zayed Al Nahyan, issued a directive to allocate a humanitarian aid package of $20 million. He also ordered the establishment of an integrated field hospital inside the Gaza Strip as part of the 'Gallant Knight' operation."
Read the full article here