The world's largest single-site solar power plant has been inaugurated in Abu Dhabi ahead of the UAE hosting COP28.
Located 35km from the city, the landmark 2GW Al Dhafra Solar Photovoltaic Independent Power Project was built in a single phase and generates enough electricity to power almost 200,000 homes, displacing 2.4 million tonnes of carbon emissions every year.
The plant spans more than 20 sq.km. of desert and created 4,500 jobs during the peak of the construction phase. It uses almost 4 million solar panels, which deploy innovative bi-facial technology, ensuring sunlight is captured on both sides of the panels to maximise yield.
Abu Dhabi Future Energy Company (Masdar) developed the project along with its partners Abu Dhabi National Energy Company (TAQA), EDF Renewables and JinkoPower. Emirates Water and Electricity Company (EWEC) is the procurement firm.
Sheikh Hazza Bin Zayed Al Nahyan, Deputy Ruler of Abu Dhabi, unveiled the project, which is already supplying clean, emissions-free electricity to the UAE national grid. Lt. General Sheikh Saif Bin Zayed Al Nahyan, Deputy Prime Minister and Minister of the Interior, was also present.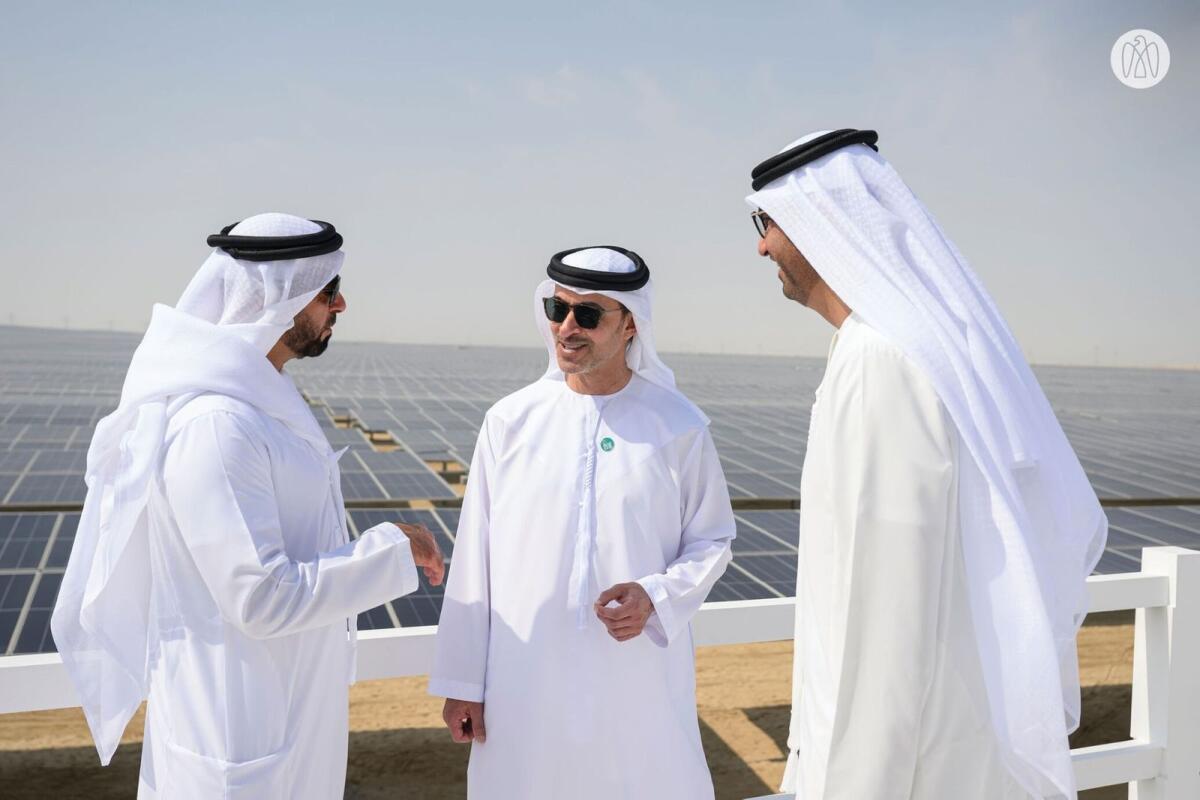 Photo: Supplied
Stay up to date with the latest news. Follow KT on WhatsApp Channels.
Sheikh Hazza reaffirmed that the UAE, under the leadership of President His Highness Sheikh Mohamed bin Zayed Al Nahyan, is proceeding with its strategic plans to enhance its energy security by implementing a diverse range of flexible energy generation that is contributing to the reduction of carbon emissions, while also advancing the economy.
"As the UAE prepares to host COP28, this pioneering project reflects the country's ongoing commitment to raising its share of clean energy, reducing its carbon emissions, and supporting the global efforts on climate action."
Photo: AFP
Global leader
In less than 15 years, the UAE has become a global leader in solar energy. In 2009, Masdar switched on the country's first solar project at 10MW – today, Al Dhafra Solar PV represents a plant that is 200 times that size. As the countdown to COP28 in the UAE begins, this mega project initially achieved the world's lowest tariff at financial close, and demonstrates the country's longstanding commitment to decarbonisation, at home and around the world.
Dr Sultan Al Jaber, UAE Minister of Industry and Advanced Technology, Chairman of Masdar and COP28 President-Designate, said: "With just days to go before the start of COP28, I will be asking the world to unite and deliver the energy transition by tripling renewables capacity and doubling energy efficiency by 2030. Al Dhafra is an example of the scale of the ambition needed around the world."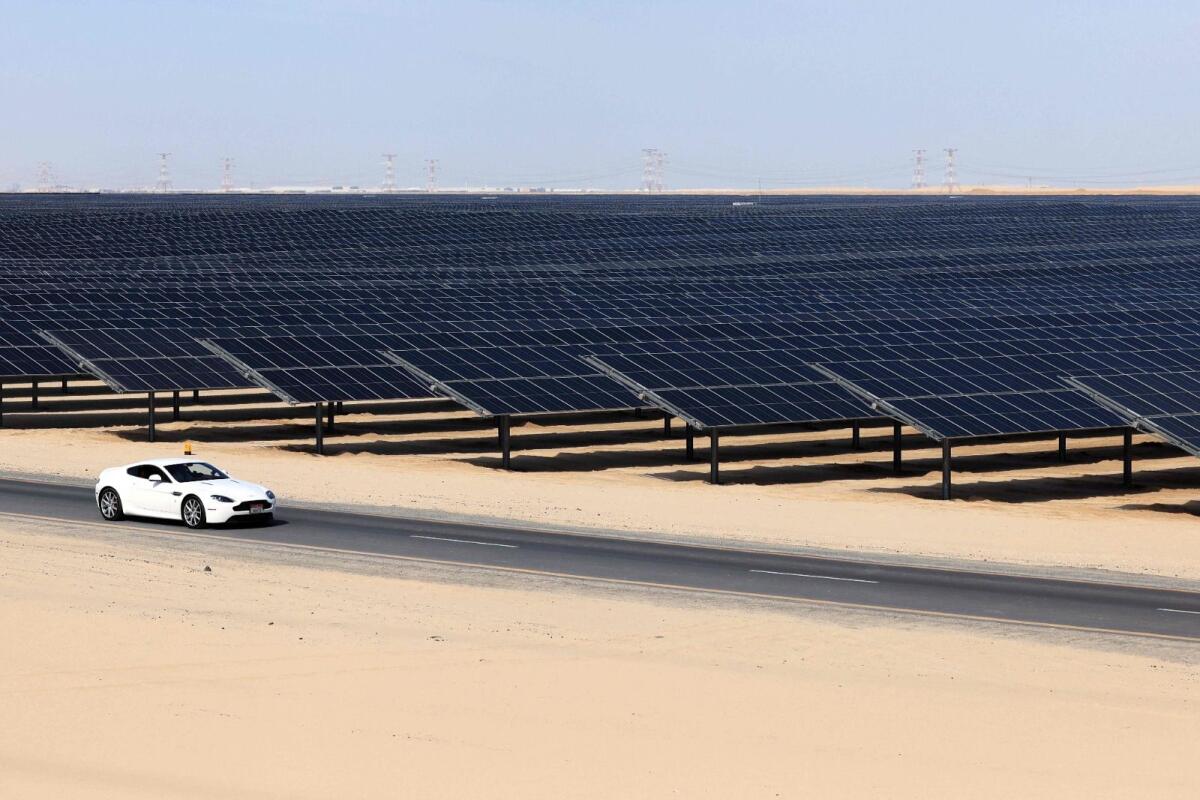 Photo: AFP
The UAE is also a world leader in solar energy use, according to the latest data from The Energy Institute Statistical Review of World Energy, ranking second globally in terms of per capita solar energy consumption. In under a decade, the country has surpassed leading nations by installing solar energy, as part of the country's energy diversification.
Photo: AFP
The delivery of the project was made possible after global energy leaders formed a strategic partnership and harnessed their combined expertise. Al Dhafra Solar PV, planned and procured by EWEC, has broken records in terms of cost for utility-scale solar projects. Initially, the project led to one of the most competitive tariffs for solar power set at Dh4.97 fils/kWh (1.35 cents/kWh), which upon financial close, was further improved to Dh4.85 fils/kWh (1.32 cents/kWh).
Read the full article here