Network will be a game changer for the country's logistics sector, say experts
His Highness Sheikh Mohammed bin Rashid Al Maktoum, Vice-President and Prime Minister of the UAE and Ruler of Dubai, inaugurates the national railway network. Photo: Dubai Media Office
Business leaders in the UAE have enthusiastically welcomed the UAE rail network with some already counting the savings because of it.
"This move further solidifies the position of UAE as the trading hub of the world," said Kamal Vachani, director of Al Maya Group, a major Dubai-based FMCG company. "It enhances the already strong transportation infrastructure that the country offers and will positively impact all the businesses in the country."
On Thursday, the UAE announced the launch of its national railway network. The 900km pan-UAE network has been completed according to the approved schedule and budget, with cargo train operations launched across the Emirates.
According to long-term Dubai resident and Group Managing Director of Hotpack Global, Abdul Jebbar the network is going to be a game changer for the country's logistic sector. "This will enable us to transport our massive quantity of goods more efficiently, safely, and cost-effectively," he said. "We feel the rail network will play a crucial role in supporting our business operations as we have 11 manufacturing plants and distribution centres across the country."
One of the largest infrastructure projects in the region, the main line of the UAE National Railway Network extends from Ghuweifat on the border of Saudi Arabia to Fujairah. It passes through several geographical terrains, with its engineering plan, including the construction of 593 bridges and crossings, and nine tunnels with a length of 6.5km.
Cost cuts
Another business owner Mansoor Ali, the founder of Ecogreen Contracting and Landscaping Company, said he i hoping for at least a 15 per cent cut in prices for transportation. "Transportation using rail network has several benefits," he said. "The volume of goods which can be transported as well as the speed and reduced cost of fuel is going to be significant for the construction industry. As per my initial calculations, the cost should go down by at least 15 per cent. I have had situations where my products would be shipped to Abu Dhabi, and I would have to transport them to a work site in Ras Al Khaimah. With the rail network, these kinds of projects are doing to become a lot less costly and a lot more feasible for me to take up."
The network will contribute to supporting the national economy with an estimated value of Dh200 billion. It will help save Dh8 billion in road maintenance costs. The network's tourism benefits are estimated at Dh23 billion.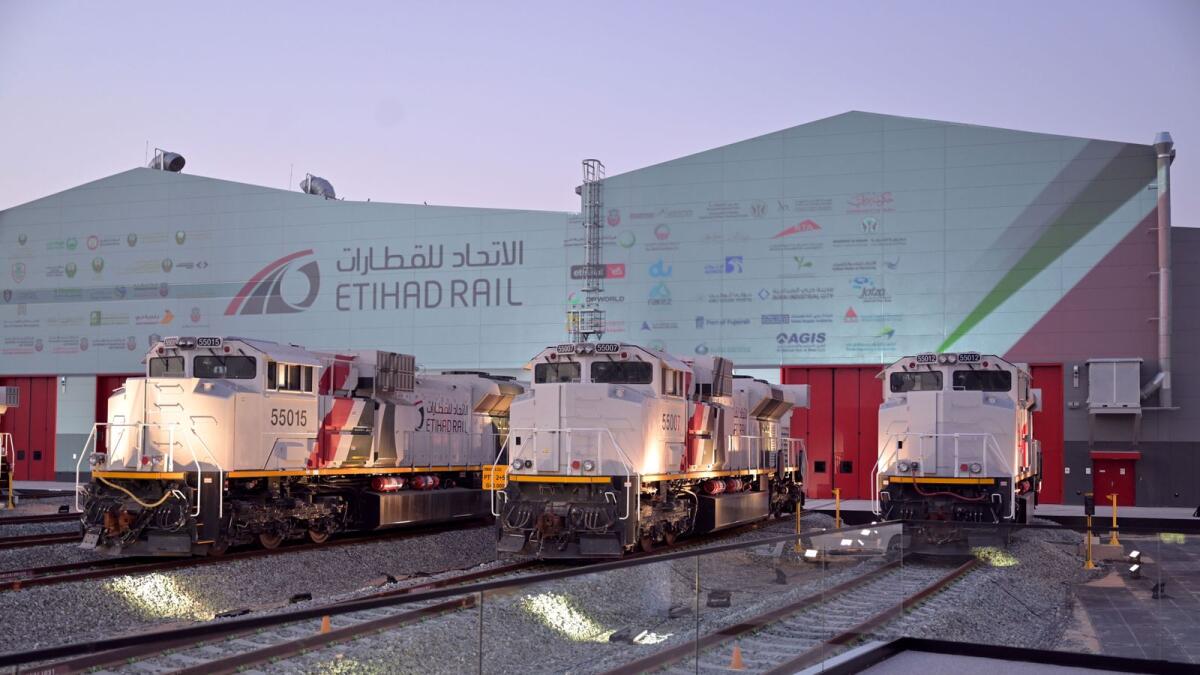 Photo: Dubai Media Office
In October last year, the Oman- Etihad rail company was established to build a railway connecting Oman's Sohar port to the UAE National rail network.
Impact on environment, growth
According to Abdul Jebbar, the netwrok will make a huge difference for the environmental impact of the company. "By utilising the network, we will be able to reduce our carbon footprint significantly, which is in line with our commitment to sustainability," he said. "Also, with the network's extensive connectivity, we hope to increase our productivity and reach out to traders as it would allow us to transport our products to our clients on time."
Bharat Bhatia, CEO and founder of steel company Conares said the network would be a catalyst for growth and innovation. "It will open up new possibilities for businesses in the UAE," he said. "It will provide a new platform for intercity transportation, enabling businesses to integrate different modes of transportation and create better and more efficient supply chains."
According to him, the company — which supplied steel to the project — will see massive benefits because of it. "The Etihad network will facilitate our logistics across the UAE to reach out to our customers much more effectively than before. This network will lead to increased competitiveness in the market, which will benefit both businesses and consumers. We look forward to leveraging its capabilities to drive our growth and success in the years to come."
Read the full article here