Shaikh Rashid bin Khalifa Al Khalifa, a member of the Bahraini royal family, is a man of many parts. An artist, art collector, chairman of the National Council of the Arts and the honorary chairman of the Bahrain Arts Society, he juggles his multifarious roles with aplomb, combining them with a love for family and travel.
Recognised as one of the Arab world's foremost artists, the septuagenarian's creative journey began nearly five decades ago. Surrounded by beauty and elegance around his home, it was a peripatetic life spent across the world that fuelled his artistic journey. After graduating with a scholarship from the Hastings College of Art and Design, Sussex, England, he began landscape painting, capturing the stark scenery of his beloved Bahrain on his canvas.
The beginnings and journey
"I loved dabbling in colours, drawing and painting more than studying any of my other subjects at school", he says. However, while studying in the UK, the young artist also leveraged the opportunity to immerse himself in topnotch art across the country's historic museums and art galleries while interacting with other artists.
"I'm basically inspired by my surroundings," Shaikh Rashid explains. "The light, colours and atmosphere specific to Bahrain's landscape largely drive the content of my art. I like to transform these elements into paintings, wall sculptures and installations merging traditional and contemporary architecture with my natural environment."
Gradually, the figurative, ephemeral oil paintings from the 80s paved way for abstract forms in the 90s. This also led to the artist's experimentation with myriad materials and surfaces. Aluminium became a favoured medium which involved applying glossy lacquer paint on its façade first and then working on enamel, a painstaking process requiring extraordinary patience and perseverance.
Shaikh Rashid says that he feels fortunate to be a part of prestigious group displays, fairs, and biennials all over the world. The artist has exhibited in numerous international exhibitions, art fairs and biennales, including 'First Light' at Heydar Aliyev Centre, Baku, Azerbaijan (2023), 'Tesselate', Mario Mauroner Gallery, Vienna, Austria (2021); 'Rashid Al Khalifa', Opera Gallery, Dubai, UAE (2021); T'ransverse Wave', me Collectors Room, Berlin, Germany (2019), 'Penumbra', Saatchi Gallery, London (2018); Moscow Biennale, Moscow, Russia (2019); 'Contemporary Istanbul', Istanbul, Turkey (2019, 2021); 'SCOPE', Miami Beach, Miami, USA (2021); Art Brussels (2022); Art Geneve (2023); to name a few.
Art initiatives in Bahrain
Encouragement from friends and family led Shaikh Rashid to launch an arts club in Bahrain with a few other artist friends. Thus was born the Bahrain Arts Society that is currently powering a thriving ecosystem for nurturing art in the Gulf nation. Exhibitions are organised to support talented local artists as well as those from outside Bahrain for the viewing public. Stimulating discussions, State patronage and global exposure for artists have created a vibrant bedrock for the creative arts in Bahrain.
Art Bahrain, born in 2010, has sponsored a repertoire of cultural initiatives, art exhibitions, and educational projects, locally, regionally, and internationally. Shaikh Rashid's vision has had a significant impact on Bahrain's contemporary art scene and its integration with the rest of the world. He says he once dreamt of becoming an architect. Though he never pursued his interest professionally, today he is actively contributing to the Gulf island's architecture and design scenes. In 2020, he launched the Rashid Al Khalifa (RAK) Art Foundation, opening up his historic family home and private art collection to the public and the world at large. "The idea at the foundation," he explains, "is to offer a platform where people are inspired and encouraged to pursue their interests in art and architecture while contributing to society in a meaningful way."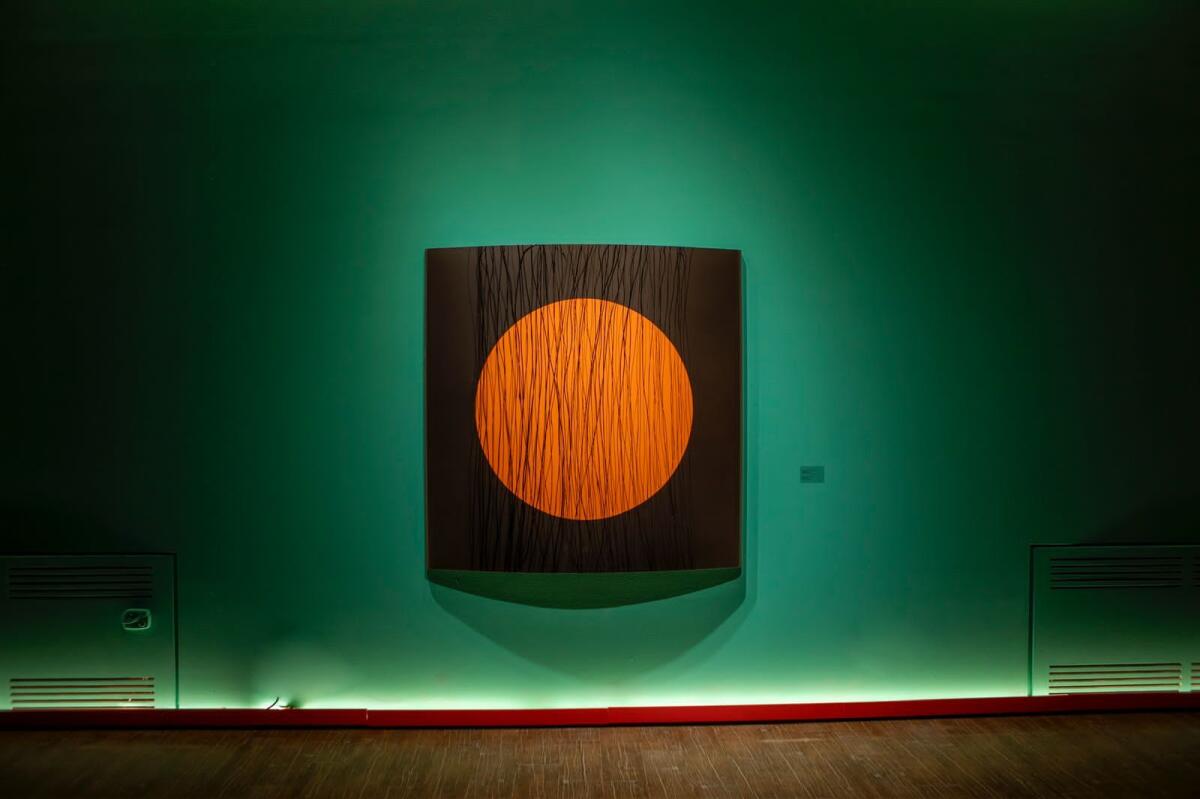 RAK Foundation is housed in a converted, traditional Bahraini home built in the 1930s. This vanishing breed of traditional gypsum-crafted homes was in fact where Shaikh Rashid was raised and lived with his mother. Its formidable international collection now boasts of works by artists from all over the Middle East, America, and Europe such as Farhad Moshiri, Monir Shahroudy Farmanfarmaian, Frank Stella, and Yves Klein.
'First Light' in solo spotlight
Currently, however, Shaikh Rashid is most excited about his solo show, 'First Light', being held at the Zurab Tsereteli Museum of Modern Art in Tbilisi, Georgia from September to November. It features a selection of the artist's most recent installations. "I am thrilled to be exhibiting First Light in Tbilisi, Georgia, at the Zurab Tsereteli Museum of Modern Art, a vibrant, dynamic and important museum. To have had this opportunity to present my work in a country with such a unique and ancient culture and heritage is a privilege", he says.
Much like his native country Bahrain itself a melting pot of cultures, Shaikh Rashid's work brings seemingly divergent attributes together, resulting in compelling formations that possess a distinct identity. First Light was previously on display at the Heydar Aliyev Center in Baku, Azerbaijan which opened in March 2023. "The sculptures intersect tradition and the future; heritage and contemporary design; the environment and industry," Shaikh Rashid elaborates.
Interestingly, the exhibition also showcases three carpets handwoven by carpet weavers in Azerbaijan. Each of these was inspired by a work exhibited in 'First Light' that pay tribute to Azerbaijani heritage by thoughtfully interweaving Shaikh Rashid's designs. In a world fraught with geopolitical tensions, Rashid's thought-provoking art is bringing people and cultures together.
Shaikh Rashid's eldest daughter, Shaikha Noor, is taking her father's artistic legacy forward in her own individualistic way. She is the co-founder of luxury fashion brand Noon by Noor. Clearly, creativity runs in the family and is nurtured.
wknd@khaleejtimes.com
Read the full article here