First-class education, a multicultural environment, and a strong economy; here's why Dubai is a great place to study and launch your career in.
For most people, the mention of Dubai brings to mind tall skyscrapers, a beautiful skyline, and dazzling holiday destinations. But Dubai has yet another feather in its cap and that is its stellar education system. It's no secret that Dubai is a city that greatly values research and innovation, so it should come as no surprise that providing its residents with high-quality and accessible education is one of the biggest priorities that the city continues to excel in.
There are several benefits of studying in Dubai, which can have a positive impact on students' academic and professional development. If you or your children are debating pursuing an education in Dubai, here are 6 major benefits of studying in Dubai:
High-quality education
Dubai has a reputation for providing premium education, with many internationally recognized universities and colleges offering a wide range of degree programs. With a large range of schools, pre-schools, colleges, and universities ranging across varying price points and amenities, Dubai has an excellent educational architecture that will take care of your children's learning requirements from the very beginning. The city currently has schools that offer a large assortment of curricula, including but not limited to the UK National Curriculum, IB, CBSE, GCSE, IGSCE, Montessori, Cambridge, French, Australian, UAE MoE, Chinese, and Iranian curriculums.
The Knowledge and Human Development Authority (KHDA) is the official body in the UAE that inspects and judges the quality of these schools and colleges across many parameters. Each year, the KHDA frequents these institutions and conducts an intensive investigation of their performance rating them as Outstanding, Very Good, Good, Acceptable, Weak, or Very Weak. Schools unable to reach the prescribed standards of academic and extra-curricular quality will be sternly warned and even shut down. It has been reported that in the year 2022, nearly 82% of international universities achieved a 4-star rating out of 5!
Diverse and multicultural environment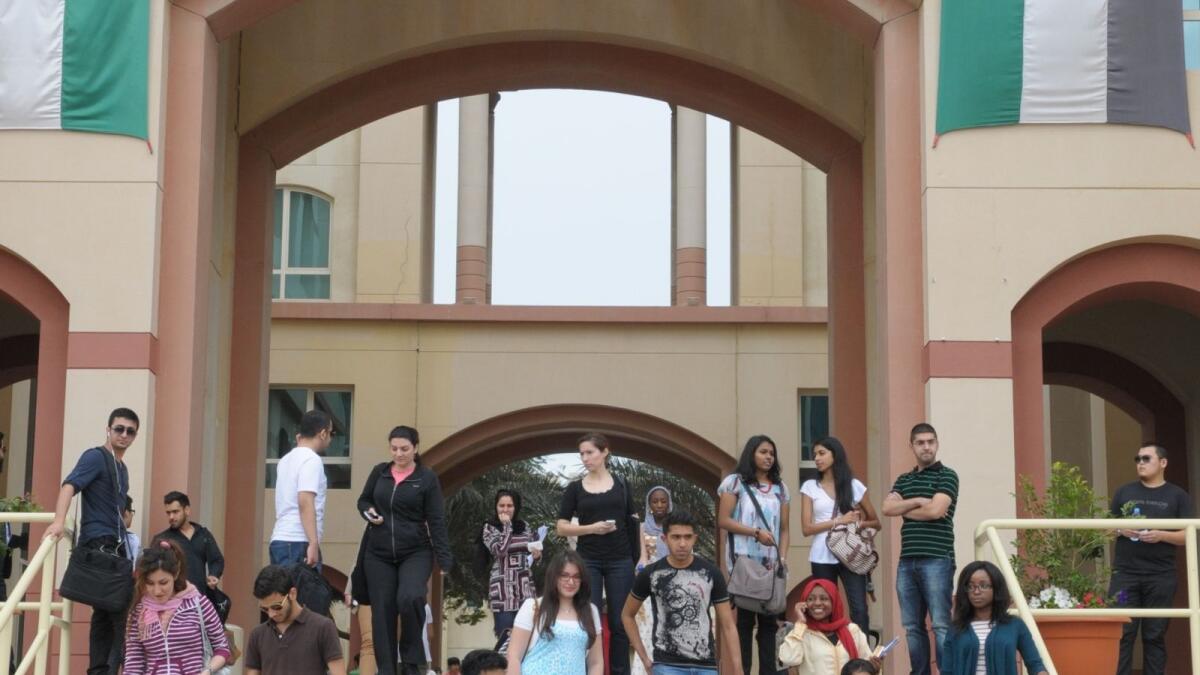 The Dubai Knowledge Village (DKV), as the name suggests, is home to a large number of international universities including the likes of M.G. University, Dublin Business School, UAE University, University of Wollongong Dubai, etc.
Dubai is a melting pot of cultures and nationalities, which means that students can experience a diverse and inclusive environment. In Dubai schools and universities, your children will find themselves shoulder-to-shoulder with students from all over the world, thus broadening their perspectives and preparing them for working in a globalised world. As of January 2023, nearly 27.49% of all UAE residents are of Indian descent. 12.7% are from Pakistan, 7.4% are from Bangladesh, 5.6% are from the Philippines, and 4.7% are from Iran. Within the UAE, Dubai is the most intercultural city, home to a whopping 200 nationalities! It is welcoming and tolerant of multiple cultures and ways of life, thus paving the way as a metropolitan study haven. This kind of intercultural learning is a priceless form of education in itself.
Strong economy
A good education often means a good job. Dubai is home to a thriving economy – the 5th-largest in the Middle East – with a diverse range of industries such as finance, tourism, and healthcare. Today, the UAE's job market has expanded to new levels as multiple foreign companies have set up branches here. Jobs that are futuristic and related to technology and artificial intelligence are said to have a very high scope in the region. In the upcoming years, the city is forecast to offer an unparalleled number of career opportunities to graduates in the fields of Artificial Intelligence, Data Sciences, HR, Business Studies, Financial Analysis, Engineering, etc. So, if you want to shape your career and aim for high-paying, future-proof employment opportunities, Dubai is the city for you.
English language proficiency
English is widely spoken in Dubai which is a huge advantage in the global job market, as English is often the language of business. This opens the doors of opportunities for individuals from any culture and educated in any country as long as they have a good grasp of the English language.
Networking opportunities
Dubai is a hub for business and commerce, which means that students can build a strong network of professional contacts while studying there. This can be valuable for future job opportunities and career development. The city also provides multiple opportunities for students to balance an education with part-time jobs. As per UAE's Labour Law, students who have completed the age of 15 can pursue internships in the field of their choice as long as they are issued an official juvenile work permit. This fosters an understanding of Dubai's work culture from a young age, and also helps in building experiences and networks early on.
Student-friendly nature
While Dubai is not known for being cheap, there are several areas in the city that cater to the needs and budgets of university students. Areas like Knowledge Village, Dubai Academic City, Dubailand, Silicon Oasis, etc. all offer affordable student-friendly housing options that are safe and have pretty much all the amenities students could possibly require. These dynamic and young environments further add to the appeal of Dubai as a city of unmatched educational potential.
In short, there are numerous reasons why Dubai is not just the city of gold, but also the city of intellect and career opportunities. Apart from its metropolitan charm, wide range of options, and a high levels of safety and security, Dubai is also blessed with a government that places immense importance on the welfare of its people. As the Ruler of Dubai, His Highness Sheikh Mohammed Bin Rashid Al Maktoum stated, Dubai is a city that knows that "education is infinite, learning never stops."
Read the full article here