National Experts Programme is a launch pad for Emirati specialists who strive to play a transformative role in key future-growth sectors
The 15 Emirati specialists who have been chosen for the rigorous 8-month programme
The National Experts Programme (NEP) has introduced its cohort of 15 Emirati specialists and mentors, including top ministers and industry leaders, taking part in the third edition.
Developed under the direction of President His Highness Sheikh Mohamed bin Zayed Al Nahyan, the programme is a launch pad for Emirati specialists who strive to play a transformative role in key future-growth sectors aligned with the strategic vision of the UAE.
The rigorous eight months programme combines academics, immersive work experience, and one-on-one mentoring by sector leaders to foster knowledge exchange and innovative thinking. It focuses on three strategic clusters: economic growth, social development, and sustainability and infrastructure.
"The National Experts Programme, created to contribute to the UAE's long-term strategic economic development, will be an essential platform to recognise promising young leaders and nurture the next generation of Emirati talent," Ahmed Talib Al Shamsi, director of the programme, said.
"The third edition's participants were selected from nearly 900 applicants through a competitive selection process," Al Shami added.
With the UAE hosting the UN Climate Change Conference (COP28) this year, this edition places added emphasis on sustainability. The learning and development programme supports the UAE's strategic vision and fosters the development of sector leaders by cultivating specialised expertise and leadership skills in outstanding UAE-based professionals and equipping them to make a transformative impact on key social and economic sectors.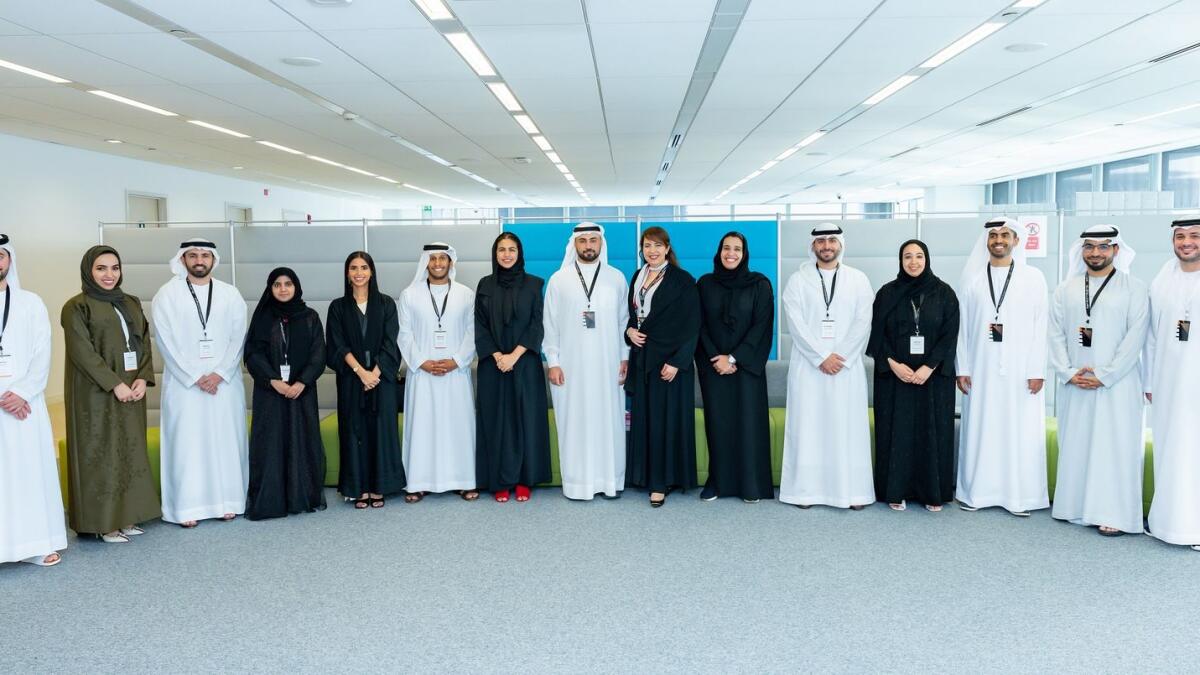 The third edition of the programme started in November and will conclude in June. The cohort and mentors, introduced publicly, for the first time includes:
1. Economic growth
Economic development: Abdulla Bin Touq Al Marri, Minister of Economy (mentor); Mohamed Tarmoom, Senior Associate, UAE Investments at Mubadala Investment Company (participant).
Media and creative economy: Mona Al Marri, Director General of the Government of Dubai Media Office (mentor); Waheeda Alhadhrami, Director of National Cultural and Creative Industries Promotion Department at the Ministry of Culture and Youth (participant).
Space: Salem Humaid Al Marri, Director General at Mohammed Bin Rashid Space Centre (mentor); Abdulla Alshehhi, Head of Strategic Research at the UAE Space Agency (participant).
Technology and Innovation: Peng Xiao, Group CEO, G42 (mentor); Dr Abdulla Al Shimmari, CEO, HCMS.ai (participant).
Advanced sciences and research: Professor Eric Xing, President at Mohamed Bin Zayed University of Artificial Intelligence (mentor); Dr Ameena Al-Sumaiti, Associate Professor at Khalifa University (participant).
Tourism and hospitality: Haitham Mattar, Managing Director of India, Middle East and Africa at IHG Hotels and Resorts (mentor); Aisha Al Matrooshi, Tourism Sector Industry Development Section Head, Department of Culture and Tourism – Abu Dhabi (participant).
2. Social development
Education: Dr Ahmad Belhoul Al Falasi, Minister of Education (mentor); Hareth Alhashmi, Director of Strategy Success at the Abu Dhabi Early Childhood Authority (participant)
Culture: Omar Saif Ghobash, Ambassador to the Holy See and Assistant Minister for Cultural Affairs at the Ministry of Foreign Affairs and International Cooperation (mentor); Eman Al Mughairy, Head of Communication at Anwar Gargash Diplomatic Academy (participant).
Community development and social services: Hessa bint Essa Buhumaid, Minister of State (mentor); Talal Faris, Division Manager, Family and Community Division at Abu Dhabi Department of Community Development (participant).
Policy and government services: Maryam Al Hammadi, Minister of State and Secretary General at the UAE Cabinet (mentor); Salama Alfalasi, Senior Programmer and Chairwoman of Dubai Police Young Leaders Council at Dubai Police Headquarters (participant).
Health and well-being: Dr Jorge A. Guzman, CEO, Cleveland Clinic Abu Dhabi (mentor); Fatima Al-Ali, Project Manager at Mubadala Health (participant).
3. Sustainability and infrastructure
Energy and renewables: Dr Sultan bin Ahmed Al Jaber, Minister of Industry and Advanced Technology (mentor); Saood Alnoori, Head of Diplomatic Engagement at the Office of the UAE Special Envoy for Climate Change (participant).
Food and water security: Mariam bint Mohammed Saeed Hareb Almheiri, Minister of Climate Change and Environment (mentor); Hamad Alshehhi, Investment Manager at ADQ (participant).
Mobility and logistics: Falah Mohamed Al Ahbabi (mentor); Abdulla Alhaidan, Project Manager, Project Management and Group Planning at DP World (participant).
Environment and climate change: Dr Shaikha Salem Al Dhaheri, Secretary General of the Environment Agency – Abu Dhabi (mentor); Maitha Al Hameli, Section Manager – Marine Assessment and Conservation at the Environment Agency – Abu Dhabi (participant).
Read the full article here