Designer is known for his elaborate theatrical shows
The beloved novella "The Little Prince" tells us that we see clearly only with our hearts — that what is essential is invisible to the eye. Fair enough. But Thom Browne, in a fashion show channeling the famed 1943 tale, couldn't help but dazzle the eye, too.
Those lucky enough to get a seat at a Browne runway show know what they're getting into by now — which is, basically, anything but a typical runway show. Rather, Browne's shows are elaborate, lengthy, fully realized theatrical productions, with backstories and narration and music, along with fashions featuring endlessly inventive craftsmanship.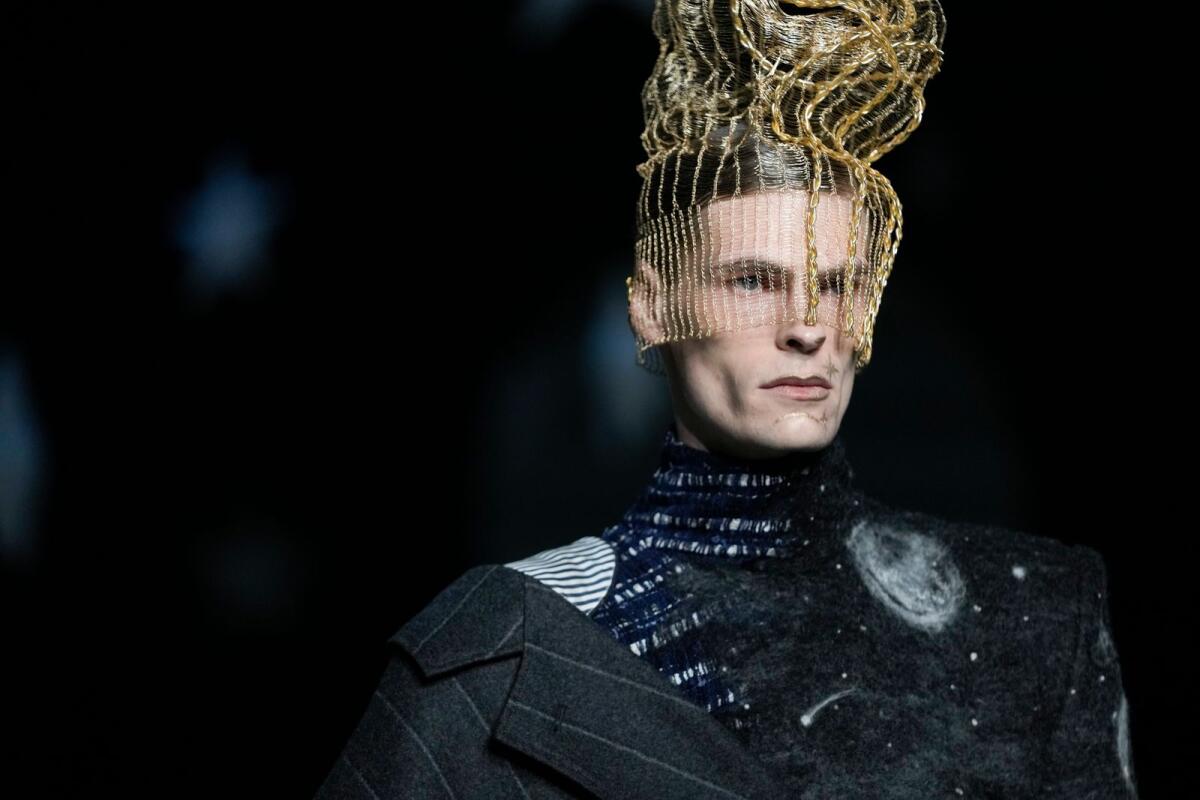 The Thom Browne collection is modeled during Fashion Week, Tuesday, Feb. 14, 2023, in New York. (AP Photo/Mary Altaffer)
On Tuesday night at New York Fashion Week, Browne, who has just taken on the high-profile role of chairman of the Council of Fashion Designers of America, welcomed guests to a large theater space on the far west side of Manhattan with a scene both fantastical and familiar.
A small airplane, stuck in the sand (real sand). Planets and stars, twinkling from above. What was it this time … oh, of course! Browne had brought his guests to the Sahara to recreate the plane crash from Antoine de Saint-Exupéry's story.
Andrew Bolton, seated left, Anna Wintour, second from left, and Erykah Badu attend the Thom Browne collection presentation during Fashion Week, Tuesday, Feb. 14, 2023, in New York. (AP Photo/Mary Altaffer)
"We find ourselves in the desert," the taped narration began. "A plane has crashed." A model playing the pilot, dressed in a space-suit like ensemble with pouffy sleeves, wandered about, disoriented, soon to encounter another model with hair in blonde curls reminiscent of the prince — and dressed in one of Browne's signature gray blazers with a four-stripe band on the arm.
"Two lost travelers meet," said the narrator, describing one, the pilot, who has traveled far and wide across Earth, and another, the prince, who has traveled farther, from his own planet. Then came a series of models representing distant planets. These characters had high white buns with elaborate headpieces, and endlessly long curled fingernails and toenails.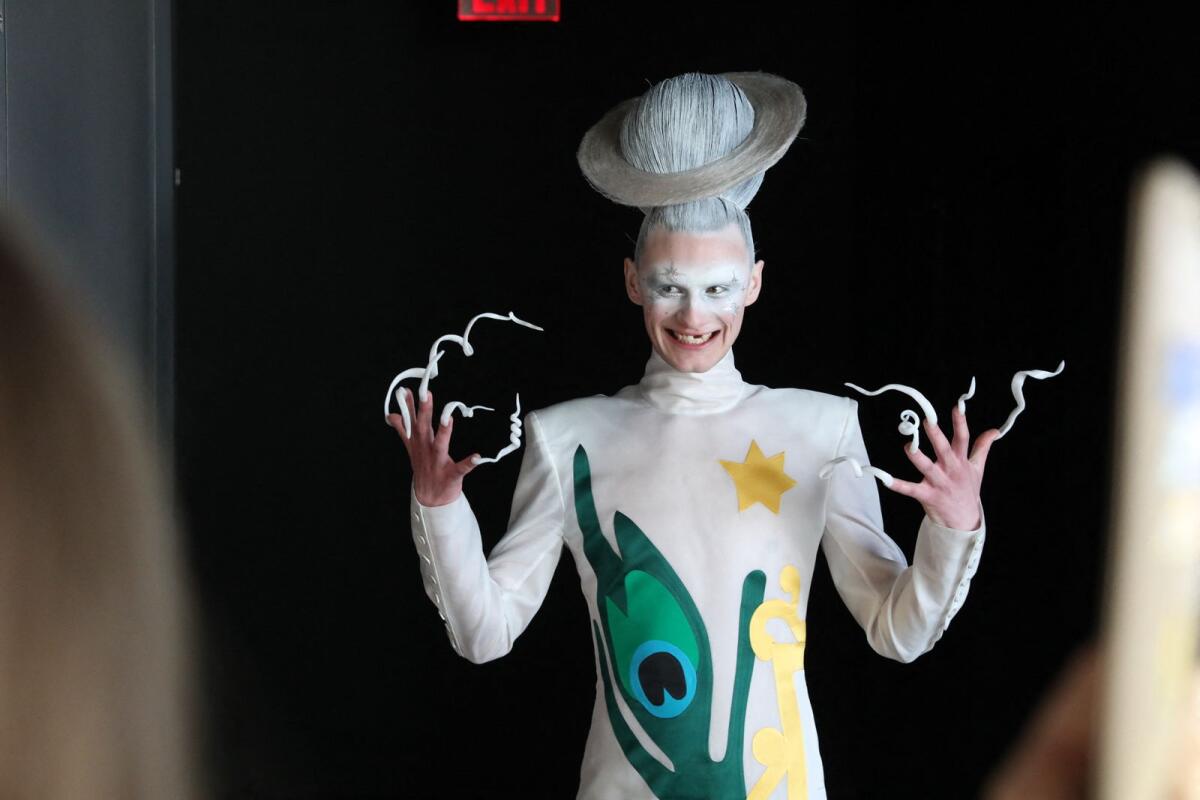 Model poses backstage at the Thom Browne fashion show during the February 2023 New York Fashion Week at The Shed on February 14, 2023 in New York City.
Next came a procession of adults — who, in the words of the prince, need to be told what to do and only see what's in front of them. These models displayed a series of coats in sumptuous tweeds, all with exaggerated huge shoulders, with suits and ties underneath. They carried briefcases bearing clock faces — indeed, the heels of their chunky shoes, too, formed round clock faces, as did the stage itself. They walked to the methodical ticking of a clock's second hand (you think models walk fast in fashion shows? Not in a Thom Browne show.)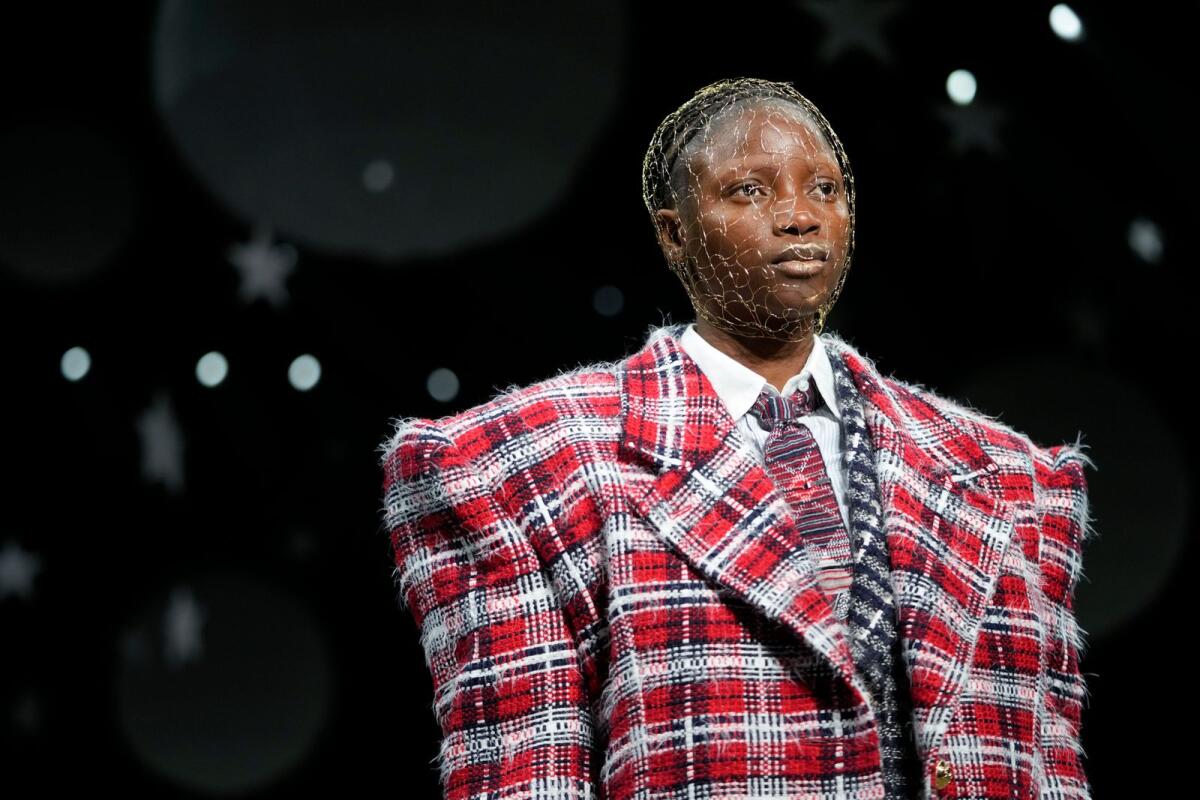 The Thom Browne collection is modeled during Fashion Week, Tuesday, Feb. 14, 2023, in New York. (AP Photo/Mary Altaffer)
A subsequent group wore fanciful combinations of prints and plaids, with bustles at the back and tight patterned waistbands. And there was yet another group — seemingly representing children — in deconstructed suits, garments comprised of jackets and shirts taken apart and patched together, with shoulders hanging off waists or sleeves jutting out every which way. Elaborate gold concoctions that would befit a pope adorned their heads.
Erykah Badu attends the Thom Browne fashion show during New York Fashion Week
An eclectic group of celebrities, from music figures Erykah Badu, Queen Latifah and Lil Nas X to TV host Whoopi Goldberg to actors Christine Baranski, Rebecca Hall and Jesse Williams, watched as the show took an emotional turn at the end, with the models coming back out in couples, hand in hand in a message of togetherness, accompanied by the song "You'll Never Walk Alone" from the Broadway musical "Carousel."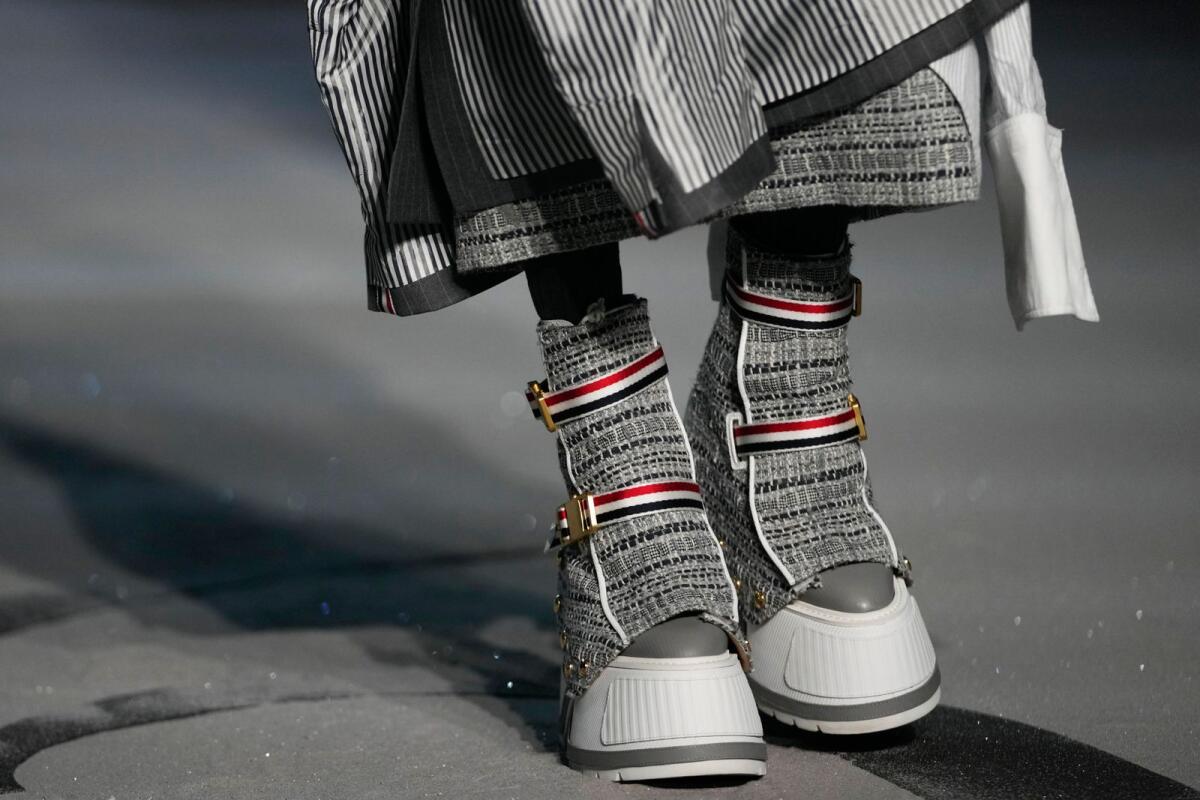 The Thom Browne collection is modeled during Fashion Week, Tuesday, Feb. 14, 2023, in New York. (AP Photo/Mary Altaffer)
Read the full article here