The Netflix docu-series is a nostalgic look back at one of the Hindi film industry's most prolific periods
In the reel world of cinema, timing is everything. From the muhurat (first) shot to the signing of the lead-pair to the exact date the movie releases, everything is carefully orchestrated so the project creates the right impact when it hits the big screens. And as far as Netflix's new docu-series The Romantics is concerned, the timing couldn't have been better.
Fresh off the success of the Shah Rukh Khan led action thriller Pathaan, which from all accounts is breaking box-office records, Yash Raj Films (YRF) certainly has a lot to celebrate. And bringing out a tribute to the master craftsman Yash Chopra, widely regarded as Bollywood's 'Father of Romance' on Valentine's Day, 2023, was a masterstroke that even the erstwhile founder of YRF could not have faulted. From Silsila to Lamhe, Chandni, Dilwale Dulhania Le Jayenge, and many many more gems, Yash Chopra and his team have given Bollywood buffs enough reasons to whistle and clap and celebrate the magic of cinema on the big screen.
At a time when production houses world wide are frantically rejigging the tried and tested formulas and embarking on new marketing strategies to draw cinema buffs back into theaters post Covid, The Romantics comes as a timely reminder of how movies can enchant us and fill us with wonder and make us forget our woes as we get entangled in worlds that are familiar, yet so different from our own mundane ones. There is romance, action, drama and all the ingredients for a roller coaster of emotions that make us laugh out loud with happiness and joy one moment and sigh and hold on to our broken hearts the next.
The four-part docu-series that feature the mega stars from the industry including Amitabh Bachchan, Shah Rukh Khan, Salman Khan, Aamir Khan, Anushka Sharma, Rani Mukerji, among others, is an unabashed tribute to Chopra and YRF's 50 year glorious existence. We speak to Oscar and Emmy nominated filmmaker Smriti Mundra, who counts the super successful Indian Matchmaking and Never Have I Ever franchise in her kitty, to learn more about the series and how she managed to get the famously elusive Aditya Chopra to open up camera, and more.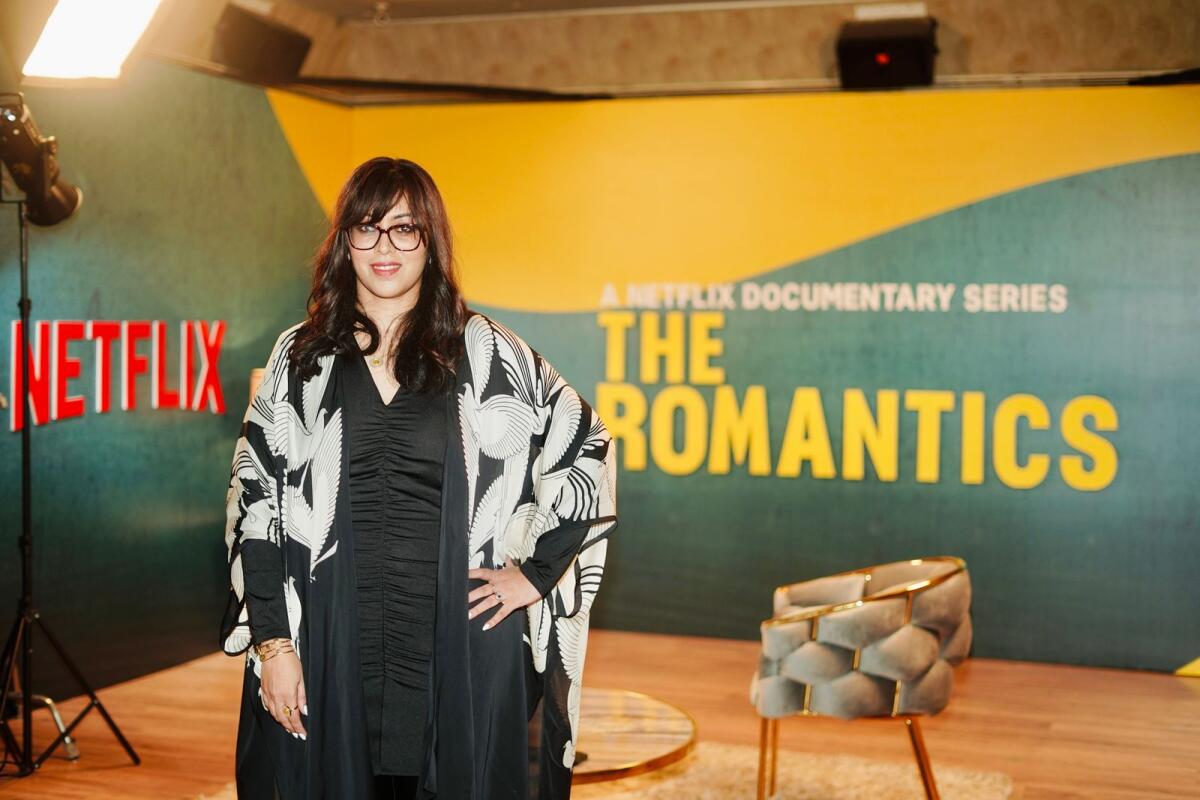 Smriti Mundra hopes The Romantics will tap into the nostalgia for Bollywood films among fans
Could you run us through how The Romantics first came to you and what inspired you to take it on?
For a long time I wanted to make a documentary about Hindi cinema and its impact and influence. When I was thinking about how to distill that idea into a film or a series, I felt Yash Chopra and his legacy would be a great starting point. Because so much of Yash Chopra's style and aesthetics and contribution to Hindi cinema shaped the world's perception of what Hindi cinema or Bollywood is known as today. The iconic films and the history of the studio is in a way telling the story of so many big cultural changes in India. So it seemed like a good place to start for a series.
Are you a Bollywood buff and what's your favourite Yash Chopra movie?
I'm definitely a Bollywood buff. I've been watching Hindi films since I was a kid, I would say Chandni is probably my best Yash Chopra film; it is the one I watch over and over again. In fact I just watched it last week!
Tell us one facet about Yash Chopra that you learnt during the making of The Romantics that blew your mind.
Just seeing Yash Chopra doing his work… In all of the behind the scenes footage and the archival footage we had access to, seeing him work on set was really a joy. What an amazing artist he was and how much he loved filmmaking. He really treated every person that worked on his set from the biggest star to each and every technician like family and it was really amazing to see that.
How did you manage to convince the reclusive Aditya Chopra to come on board for a video interview?
It definitely wasn't easy. That must have been the most difficult aspect of making this – getting Aditya to agree to appear in the series. But I think for a series that was going to be the definite series about his father's legacy, it would have felt incomplete without his involvement. And I think it was because of his love for his father and his regard for his father that he agreed to do it.
Three generations of actors including superstars like Amitabh Bachchan, Rishi Kapoor, Shah Rukh Khan and Salman Khan are part of The Romantics. How was it interviewing the veritable A-listers from an industry that is often looked up to with so much awe and adoration.
It was incredible. Honestly I am a fan first before I am a filmmaker. Sometimes it was difficult to contain the fan side of me when sitting face to face with these icons and these stars who have been such a definitive part of my upbringing and childhood and coming-of-age and all of that. So it definitely took a lot for me to maintain a professional demeanour while interviewing some of these stars. But yeah, it was an absolute privilege.
Film industries world over are going through a tumultuous period. Covid has brought about a complete change in the way we consume movies. As such what do you have to say about the timing of The Romantics. Why was it important to bring out this docu-series now?
Definitely because of the circumstance of global cinema – the very idea of going to the cinemas is in a low point, you can even say it is in a crisis and that is all across the world, from Hollywood to Europe, Asia, India of course,
What I hope this series will do is remind people of why we love going to the movies. Nostalgia is an antidote for cynicism; that's what we need right now. We need to be reminded why we need movies now; why we love the collective experience of going to movies and hopefully The Romantics will do that.
In many ways The Romantics is an ode or a love letter to Bollywood – the extravagant song and dance routines and the romance and the action that audience would lap up. But do you feel that age is over now?
Absolutely not. I think that even just seeing the response to the trailer of The Romantics just sparked something in people and reminded them of what they loved so much about Hindi films and cinema. I don't think it is over at all. These things are cyclical, the ebb and flow. The industry has gone through rough times before, but it has always rebounded because at the end of the day Indian people and movies and cinema are one and the same. You can't take it out of us.
A scene from YRF's Veer Zaara
Commercial Bollywood films have been derided by many for being too superficial, larger-than-life, extravagant puff pieces meant for instant gratification. But how do you view its impact on a global audience?
I think that's way too broad a brush (to use) for Indian cinema where there are many movies that have portrayed complex relationships, that has informed the way we interact with each other, that has shaped culture. I think the impact of these films is immeasurable.
Just because something is pleasing and appealing to a mass audience doesn't mean it cannot contain a strong message and you see that it is a real opportunity in movies that can reach a mass audience, to help shape our values and our perception about storytelling and our perception about relationships.
So no, I don't think they are fluff at all – even the ones that are mass popcorn films, as we call them. They have tremendous impact and hopefully through this series, people will see that.
Your previous show Indian Matchmaking had such a wide impact – not just among Indians but among a global audience as well. Do you think The Romantics has that scale to appeal to an international audience as well
I've learnt that you can't predict these things – as to what a global audience is going to grab on to. But I certainly hope so, when I think all indications seem to say that there is something that The Romantics has tapped into that is inside all of us, which is a collective love for cinema. I truly hope that it does reach a global audience; that it taps into the nostalgia for those who have been raised on Hindi cinema. And I hope for the 'Bollywood curious' as we call them, it gives an entry point to really learn more about our cinematic history and give people a list of films to view.
Finally how do you view The Romantics – is it a tribute to a Bollywood showman, a celebration of Yash Chopra's legacy or a nostalgic ride down memory lane for many who have grown up gazing adoringly at their heroes on the big screen during simpler times?
Definitely all of the above. The series is a tribute to Yash Chopra, an analysis of his enduring legacy, but it is also about the endurance of the film industry. We have seen the industry go through ups and downs before. Films have succeeded, films have failed but still we keep making films so I would say, all of the above.
The Romantics is streaming now on Netflix
Read the full article here