There's more to Channing Tatum's swan song than just a dance movie
Salma Hayek, left, and Channing Tatum in a scene from "Magic Mike's Last Dance." (Claudette Barius/Warner Bros. Pictures via AP)
The first thing you learn about Mike Lane, played by Channing Tatum and otherwise known as Magic Mike, in the new movie "Magic Mike's Last Dance" is that his dream has died. The COVID-19 pandemic destroyed his custom furniture business, his raison d'être beyond stripping in the first two movies. Now Mike is working for a catering service, serving drinks to wealthy people who donate to causes they don't even care to learn about.
The "Magic Mike" movies are about impeccable abs, female fun, male friendship and the power of a great lap dance. But just beneath all the joy of gyrating hips lurks economic anxiety. "Magic Mike" has always been about money, and not just the dollar bills.
With "Last Dance", Tatum, director Steven Soderbergh, writer Reid Carolin and their collaborators have created a trilogy that's sneakily about the last decade or so in American instability. What started as a (mostly) realistic portrait of stripper life in the wake of the Great Recession has evolved into a fantasy for the days of COVID-related financial strife, in which Mike is rescued from his economic travails by a rich almost-divorcée (Salma Hayek Pinault) who sees his talent and whisks him away to London to direct a show.
Sure, it's a lot of rom-com escapism, but it also has real-world resonance. Mike saw the one thing he worked for crumble. Now he gets a way out, and the kind of happy ending for which many long. Even then, the specter of monetary worries still lingers.
When the first "Magic Mike" arrived in 2012, the story was irresistible: With his movie career heading into overdrive, Tatum was starring in a film based on his own pre-Hollywood experiences as a dancer in a male revue. The movie, set in Tampa, Florida, drew audiences looking for "hot boys," but the story within was more melancholy than the squeal-inducing imagery of ripped dudes in goofy, barely there costumes suggested.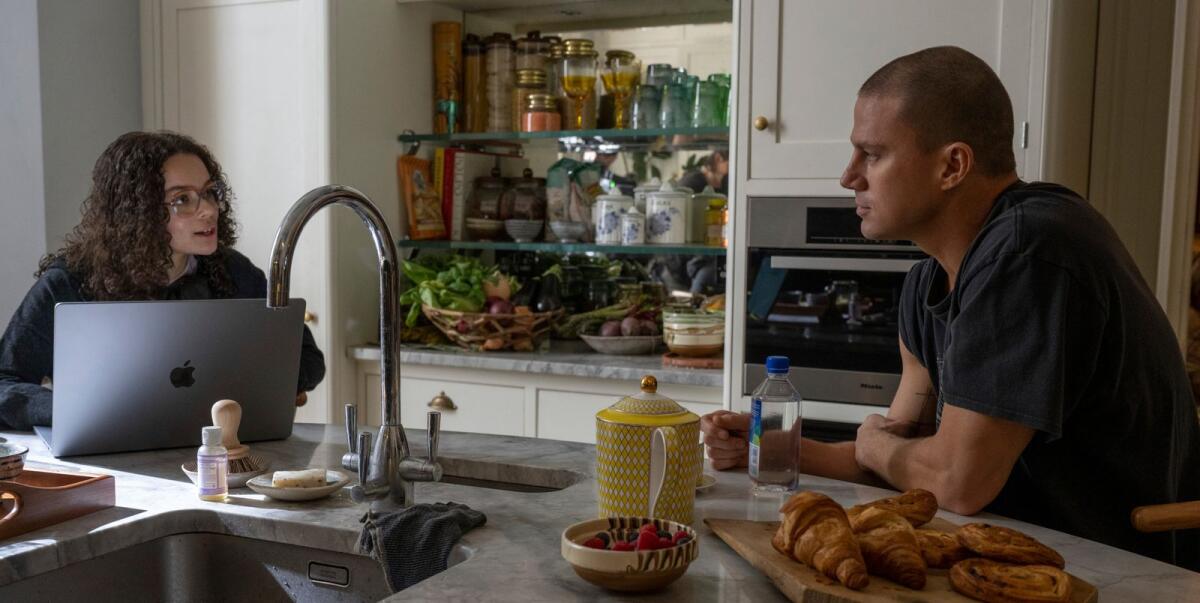 Jemilia George, left, and Channing Tatum in a scene from "Magic Mike's Last Dance."
As Manohla Dargis wrote in her review for The New York Times, the film "is also very much an inquiry into capitalism and its woes." In The Atlantic, Alyssa Rosenberg argued that the dancers "reveal the naked truth about the recession." She explained, "These strippers are marginally employed men trying to move up the economic ladder in a state with the second-highest foreclosure rate in the country."
The deeper concerns of "Magic Mike" shouldn't have been a surprise. Soderbergh is known for flitting among genres, but whether he's making sleek heist movies, uncomfortably real thrillers or dramas based on actual events, he's always interested in power structures and how they affect the people in his lens.
Though the Great Recession was technically over by the time "Magic Mike" was released, you can feel its aftermath coursing through the screenplay. In the most devastating scene, Mike is refused a bank loan to open a furniture business because of his low credit score. The loan officer (Betsy Brandt) tells him, "We do offer relief programs for our qualified distressed candidates." His flirty demeanor drops. "I read the papers," he replies. "The only thing that's distressed is y'all."
But it's not just that one moment: The feeling of trying to understand a system that has failed you permeates the movie. Dallas, the slick master of ceremonies portrayed by Matthew McConaughey, says he would not send his hypothetical child to school. Instead he would make the kid watch Jim Cramer's "Mad Money" all day and "get him into Ameritrade." It's a grim-sounding attempt to win a game that's not worth playing.
By "Magic Mike XXL" (2015), directed by Soderbergh's frequent assistant director, Gregory Jacobs, the economy had bounced back and Mike's furniture company, if not thriving, was up and running. He couldn't pay for health insurance for his one employee, but he was doing what he loved — other than dancing, that is. His passion for the latter draws him back to his pals from the Xquisite club, who are planning a road trip to Myrtle Beach, South Carolina, for a male stripper convention as one final hurrah before they leave the life behind.
The question of what these guys will do once that one night is over hovers over the action. Tito (Adam Rodriguez), for instance, wants to make artisanal frozen yogurt but will end up slinging snow cones at a mall. Still, the movie — which is the most outright fun of the bunch — has a twinkly-eyed Obama-era optimism. It ends with the crew watching July Fourth fireworks as the DJ Khaled song "All I Do Is Win" plays.
The purportedly final movie of the saga opens with a British-accented voice-over that treats Mike as an anthropological subject to be explored. Dance, it says, could not save Mike's furniture company from the effects of the pandemic, thus forcing him to return to service work in Florida.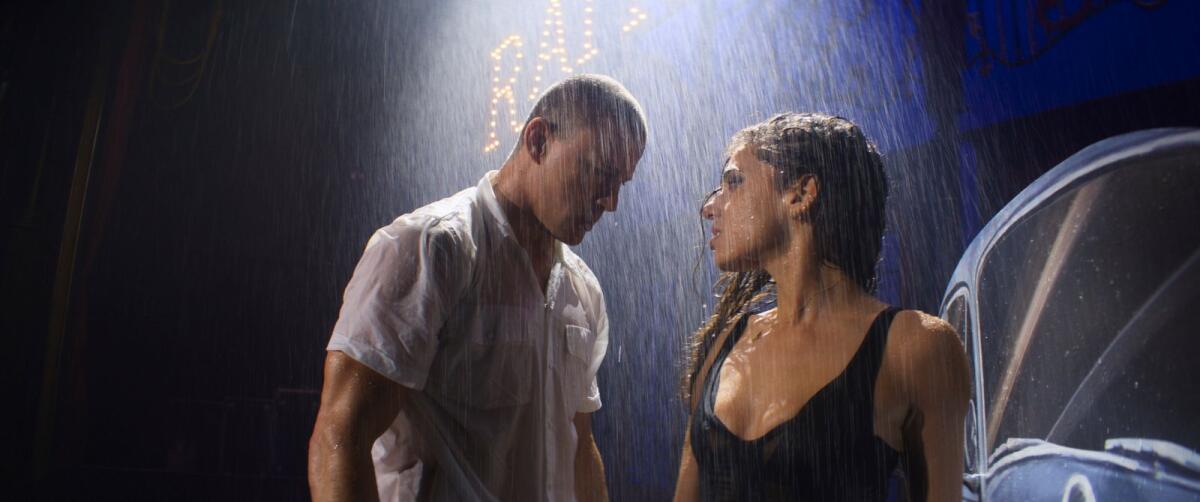 Channing Tatum, left, and Kylie Shea in a scene from "Magic Mike's Last Dance." (Warner Bros. Pictures via AP)
Later, we learn that the disembodied voice belongs to the awkward teen daughter of Maxandra, Hayek Pinault's character, writing a novel about Mike that includes some intellectual posturing about the history of dance. Still, her dialogue speaks to that underlying interest that has always been a part of this franchise: Mike is representative of an Everyman's struggle to stay afloat.
In those initial minutes the audience is made to feel his exhaustion as he returns to the kind of odd jobs he thought he had left behind. The independence that he had as a small-business owner is gone, and he is now forced to respond as stuck-up lackeys bark orders at him. At a party he is helping cater, he is recognized by a woman named Kim (Caitlin Gerard), who turns out to be a screaming college student he danced for in the first movie. Now she's a successful lawyer, and he's behind a bar, his past something for her to titter about as she walks away. Their dynamic has shifted. Kim tells Maxandra about Mike's former profession, and Maxandra, in need of a release, offers him an obscene amount of cash for one dance.
Through the sensuous choreography, their chemistry is undeniable, and when she coaxes him to travel overseas with her for a mysterious project, he goes along with the proposition, having nothing to lose.
In fact, the one time we see his buddies from the first two films, they are on a video call and Mike owes them money. Max, meanwhile, is also negotiating her relationship to her wealth, which could disappear in a flash with her breakup. Mike is her knight in shining armor, helping her get revenge on her wayward spouse, but she is also his, rescuing him from pandemic depression.
It would be easy to look at "Last Dance" as just that: a love story set against the backdrop of a production that looks a lot like the "Magic Mike Live" stage shows that Tatum, Soderbergh and Carolin have taken out on tour in the real world. And it is. But it's also the creators' version of a conclusion to Mike's journey that offers him a respite from the troubles that plague a working-class striver like him. Yes, it's a bit magical, but, after all, this is "Magic Mike."
This article originally appeared in The New York Times.
Read the full article here