It was on March 3, 2003, that Al Arabiya – now the Arab world's leading news service – launched its free network with the goal of delivering breaking international news and current events to a global audience.
Fast forward two decades, Al Arabiya is now a global news operation available to billions of people in countries across the world. It has been at the forefront of some of the biggest local, regional and international news that has captivated the world.
For all the latest headlines follow our Google News channel online or via the app.
Al Arabiya carved out a position of being first with responsible and accurate news, relaying the stories that continue to serve independent news with a global perspective to audiences around the world.
In 2003, Al Arabiya went live on air for the first time ever from its Dubai-based studios.
Shortly after the launch, Al Arabiya stood out with its coverage of the US war in Iraq which erupted shortly after the channel launched.
In a key milestone on January 26, 2009, former US President Barack Obama chose Al Arabiya for his first television interview after taking office.
Al Arabiya was the first TV channel to interview US President Barack Obama upon his inauguration in 2009. (Al Arabiya)
A year later, between 2010-2011, Al Arabiya lead in-depth international coverage of the Arab Spring all over the MENA region, including in Tunisia, Egypt, Yemen, Syria and Libya.
On January 12, 2012, Al Hadath was launched as a free-to-air news and current affairs satellite channel, which operates as an extension of Al Arabiya English.
On April 25, 2016, Al Arabiya News Channel obtained an exclusive and first-ever television interview with Saudi Crown Prince Mohammed bin Salman, in which he pledged to end his nation's dependence on oil, diversify its economy, and also confirmed intentions to make parts of state oil giant Saudi Aramco listed as an IPO.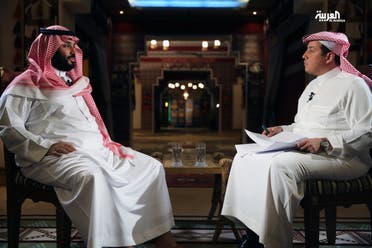 Saudi Crown Prince Mohammed bin Salman with Al Arabiya's former General Manager Turki al-Dakhil during a 2016 exclusive interview. (Al Arabiya)
In October 2020, both Armenia's and Azerbaijan's presidents appeared in live interviews on Al Arabiya during the Nagorno-Karabakh conflict.
In the same year, on November 3, 2020, Al Arabiya used technology that combined automated reality (AR), graphics and live data to project the 2020 US presidential election results across Dubai Media City.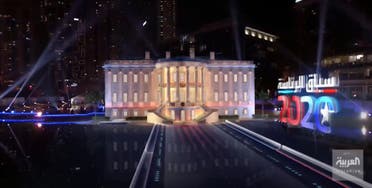 Al Arabiya used technology that combined automated reality (AR), graphics and live data to project the 2020 US presidential election results across Dubai Media City. (Screengrab)
On December 30, 2021, Raghad Saddam Hussein, daughter of the late Iraqi President Saddam Hussein, appeared in her first ever television interview with Al Arabiya 15 years after her father's death, in a one-to-one that gripped the Arab word.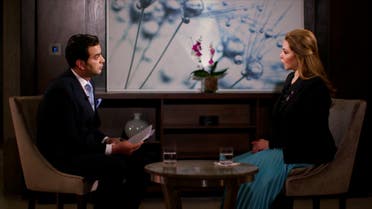 Raghad Saddam Hussein in an exclusive interview with Al Arabiya in 2021. (File photo)
More recently since 2022, Al Arabiya has been leading with its extensive coverage of the ongoing Russia-Ukraine conflict, whilst also securing exclusive interviews with some of the Arab world's most powerful – and divisive – figures.
That included an interview with Palestinian President Mahmoud Abbas and Al Arabiya English's exclusive conversation with Israeli Prime Minister Benjamin Netanyahu.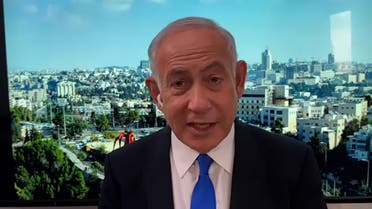 Benjamin Netanyahu appeared in an exclusive interview with Al Arabiya English. (File photo)
Twenty years on from its first ever news bulletin, Al Arabiya is leading in daily audible numbers on all digital and social media platforms in the region, numbers which are rising thanks to mobile-first video, interactive, written and broadcast news, delivered to TV and digital audiences across the world. Meanwhile, Al Arabiya's English website captures millions of visitors to its breaking news site every month, with some of its most widely-read articles.
This includes its COVID-19 coverage, the deadly 2015 stampede at Saudi Arabia's Hajj pilgrimage which left more than 700 dead, the Kingdom's lifting the ban on women driving in 2018, and more recently our coverage on the Polish woman who claimed to be missing toddler Madeline McCann.
Its top 15 articles for Al Arabiya English garnered a total of 7.5 million page views.
Twenty years of coverage came at a cost
While Al Arabiya remains at the forefront of major world events and developments, the coverage over the years has come at a cost.
In early 2004, during the US invasion of Iraq, Al Arabiya's correspondent Ali al-Khatib and cameraman Ali Abdulaziz were killed by American gunfire.
In September 2004, correspondent Mazen al-Tumeizi was killed.
In October 2004, a booby-trapped car exploded outside Al Arabiya's office in Baghdad killing several journalists and cameramen while late colleague Najwa Qassem was among those injured in the attack.
Colleague Jawad Kathem survived an assassination attempt that left him paralyzed.
In February 2006, Al Arabiya's correspondent Atwar Bahjat and two crew members were killed in a terrorist attack in Iraq's Samarra.
Ever since its launch until today, Al Arabiya's news crews have been attacked during live coverage in places like Lebanon by supporters of the Iran-backed group Hezbollah, in Afghanistan by Taliban members, in France by police while covering the riots and in Iraq.
Al Arabiya's reporters continue to cover developments in war zones and disaster areas despite all risks and threats.
Al Arabiya English's Joanne Serrieh, Jennifer Bell, Amani Hamad and Danielle AlAkl contributed to this report.
Read more
Saudi deputy crown prince gives Al Arabiya first-ever TV interview
U.S. President Barack Obama in an exclusive interview with Al Arabiya
Exclusive – The Netanyahu Doctrine: An in-depth regional policy interview
Read the full article here