Russian President Vladimir Putin's decision to launch a full-scale re-invasion of Ukraine one year ago was a global shock which has led to millions of people displaced, the deaths of tens of thousands of people and triggered the biggest confrontation with the West since the depths of the Cold War.
Russia launched its invasion on February 24, 2022, and the year-long conflict has not only threatened the stability of Europe but impacted food and energy security globally – including in the Middle East and Africa – and created shockwaves in a world barely on the pathway to recovery following the COVID-19 pandemic.
For all the latest headlines follow our Google News channel online or via the app.
Here are the ways the conflict has reshaped the world.
A shift in global order
The realization of a major war breaking out in Europe created a political constellation of three different groups of nations: those who sided with Putin's Russia, those who pledged support to Ukraine, and a group of non-aligned nations resisting involvement and/or hedging their bets.
Olga hugs her boyfriend Vlodomyr as they say goodbye prior to Vlodomyr's deployment closer to the front line, amid Russia's invasion of Ukraine, at the train station in Lviv, Ukraine, March 9, 2022. (Reuters)
European Union (EU) states were quick to respond with major sanctions and action against Russia. Despite some fragmentation – for example, on the oil price cap, and Germany's reluctance to send tanks and other weaponry – the bloc has mainly remained together, against Russian expectations and hopes.
"The EU has shown resolve and, at times surprising, unity in its response to the war," says Pepijn Bergsen, research fellow in the Chatham House Europe program.
The UK has been keen to stress its 'special relationship' with Kyiv with a desire especially by former Prime Minister Boris Johnson to lead the pack with strong rhetoric and military support.
Elsewhere, there was less solidarity with Ukraine. Putin predictably called in favors from old allies, such as Syria's Bashar al-Assad and Belarus's Alexander Lukashenko and formed a closer strategic relationship with Iran.
A week after the invasion, the UN General Assembly resolution condemning Russia's aggression was passed by an overwhelming majority. However, there were 35 abstentions, among them three Commonwealth states – South Africa, Pakistan, and India. In Asia, only a handful of governments stood strongly with Ukraine – Singapore, South Korea, and Japan. The region's largest rising powers – China, India, and Indonesia – have all refused to take a side.
The hand of Iryna Filkina, a woman who according to residents was killed by Russian army soldiers, is pictured as her body lies on the street, amid Russia's invasion of Ukraine, in Bucha, Kyiv region, Ukraine, April 2, 2022. (Reuters)
Iran has taken advantage of both tactical and strategic deals, says Chatham House Middle East and North Africa deputy director Dr Sanam Vakil – providing Russia with sanctions busting support and hundreds of attack drones while, in return, Moscow provided surveillance to help Tehran suppress recent domestic anti-government protests.
Gap-bridging Turkey has also emerged as a major new diplomatic player – helping broker the grain blockade deal, acting as a humanitarian base for hostage swaps, and hosting (to date, failed) peace talks while simultaneously blocking Finland's, and particularly Sweden's, NATO accession for its own security reasons.
In the GCC, Dr Lina Khatib, the director of Chatham Houses' Middle East and North Africa program, told Al Arabiya English that countries have shown their political heavyweight amid the conflict.
"Both the UAE and Saudi Arabia have sought to assert their geopolitical weight in context of the war of Ukraine, reminding their Western allies of the importance of national and regional priorities in the Gulf, rather than merely going along with Western priorities and wishes," said Khatib.
James Black, assistant director in the Defense and Security Group at RAND Europe, and Clara Le Gargasson, research assistant in the Defense and Security Group at RAND Europe, told Al Arabiya English in a joint interview that the strategic competition among great powers is growing in both scope and intensity.
"In the face of sanctions, and Western attempts to cut Moscow off from global supply chains for technology, materials and dual-use items, Russia is building ever-closer relationships with China and Iran among others. This has come alongside increasing tensions between the US and China, including over recent incidents with apparent Chinese spying using high-altitude balloons."
Viktor, a surgeon in a frontline medical stabilisation point, poses for a picture inside the operation room where medics treat war wounds, amid Russia's attack on Ukraine, near Vuhledar, Donetsk region, Ukraine, February 19, 2023. Describing the feeling of being unable to save a life, Viktor, a gynaecologist before the war, said: It's the worst thing you can imagine. (Reuters)
Jamie Shea, senior fellow for peace, security and defense at Friends of Europe, and former Deputy Assistant Secretary General for Emerging Security Challenges at the North Atlantic Treaty Organization (NATO), told Al Arabiya English that certainly there is the challenge to the international rules based order through an act of unprovoked aggression by one state against another.
"We haven't seen anything on this scale since Saddam Hussein's invasion of Kuwait in August, 1990," he noted. "It took a broad international coalition at the time to force Saddam to leave Kuwait and another broad coalition of countries is this time coming to the defense of Ukraine."
"But the key difference this time round is that the Western democracies are not intervening directly and doing the fighting themselves but arming and assisting the Ukrainians to liberate their own territory."
At the same time, he said, the Ukraine war has achieved a global dimension in the way that it has disrupted global supply chains and trading relationships, fueled global inflation and energy prices and led to reduced grain and fertilizer supplies affecting East Africa and other regions.
"It has also drawn in other players such as Iran or China with dangerous consequences and led to a global clash of narratives as to what the war is all about and who is responsible for its outbreak and subsequent course."
A global energy and food crises
As two major suppliers of both energy, food and fertilizer commodities, Russia's conflict with Ukraine has caused disruption in supply for both developing and developed countries.
A combine loads a truck whith grain while harvesting wheat during Ukraine-Russia conflict in the Russia-controlled village of Muzykivka in the Kherson region, Ukraine July 26, 2022. REUTERS/Alexander Ermochenko
The most fundamental change has been Europe's shift away from reliance on Russian gas. "Europe will never return to meaningful dependency on Russian fossil fuels," says Antony Froggatt, deputy director of the Chatham House Environment and Society program. "Even if the war finished tomorrow, trust has been broken between European consumers and what has been their primary supplier."
Europe reacted to the supply disruption in two ways; looking for its gas elsewhere and accelerating the move to renewable energy. Pre-2022, the EU pledged to reduce emissions by 40 percent and attain 32 percent renewables. The war has seen those targets raised to 57 percent and 45 percent respectively.
If met, it would see an almost fully decarbonized power sector across the bloc (with the odd nuclear plant still online) by 2030/35.
"The war has probably brought forward decarbonization by five to ten years," says Froggatt although huge and unparalleled expansion in capacity of offshore wind, solar, and other sources will be needed to meet targets.
The collapse of the supply of piped gas from Russia has forced Germany and many of its neighbors to source energy elsewhere including from Asia, the Middle East, and potentially Africa.
Ukrainian soldiers practise at a shooting range, amid Russia's attack on Ukraine, in Siversk, Donetsk region, Ukraine, February 18, 2023. REUTERS/Marko Djurica
"These two things – Europe buying up everyone else's energy and the concern of being over-reliant on China for supply of renewable energy materials – have had knock-on geopolitical implications," says Froggatt.
With both Russia and Ukraine being major exporters of agricultural fertilizers, the disruption to global food chains drove up prices to all-time highs, fueling a cost-of-living crisis in both developed and developing nations.
Additionally, disruption of both harvests and a Russian grain blockade threatened to create a humanitarian catastrophe in developing countries as many – such as 85 percent of Africa – depend on imported wheat. The World Food Program (WFP) says the crisis remains at 'unprecedented proportions' with ten times the number of people facing famine compared to five years ago.
James Black and Clara Le Gargasson, RAND Europe, told Al Arabiya English: "Alongside the human suffering caused by the illegal Russian invasion of Ukraine, the economic, geopolitical and strategic consequences continue to spread worldwide. Trade sanctions, energy and food security threats, and price volatility have all been felt widely, affecting not only Europe but also regions including the Middle East and North Africa."
"The increased global struggle for resources has led to price hikes and contributed to scarcity and inflation. Non-aligned third parties, such as India, have been quick to buy up Russian oil and gas at discounted prices. Countries from Yemen to Bangladesh and South Sudan are feeling the effects of disrupted food supply chains. The poor are hit especially hard."
A veteran of the Ukrainian National Guard Azov battalion conducts military exercises for civilians amid the threat of Russian invasion, in Kyiv, Ukraine, January 30, 2022. (Reuters)
A battle for cyberspace
The RAND experts said space and cyberspace are also increasingly arenas of contestation.
"Early in the invasion, Russia is believed to have attempted to hack satellites providing Ukraine with internet and GPS access. Along with Western governments, private sector firms such as Microsoft have stepped in to bolster Ukrainian cyber defenses. Similarly, commercial space organizations such as Maxar and SpaceX have not only supported Ukrainian forces with satellite imagery and communications, but also enabled the work of those NGOs, journalists and others collecting evidence of Russian war crimes. In this regard, the war has become a contest of narratives and innovation by wider industry and civil society, not just a clash between Russian and Ukrainian military forces on the battlefield."
Redrawing global security lines
Jamie Shea, senior fellow for peace, security and defense at Friends of Europe, said the war has probably "hardened and structured the pre-existing fault lines in the global security system."
"The democracies have drawn closer together. NATO has found a new sense of purpose in a return to its collective defense mission. Finland and Sweden have asked to join NATO, increasing the overlap between the EU and NATO member countries. Democracies, such as Ukraine and Georgia want to join NATO too."
"The EU has stepped up its role in imposing sanctions on Russia, financing weapons for Ukraine and sharply reducing its dependence on Russian oil and gas. On the other hand, the authoritarians have also drawn closer together with Iranian arms supplies to Russia and the increasing political and military support that China is giving the Kremlin. So a narrative of a competition or even confrontation between democracies and authoritarians for influence in the global system has emerged stronger from the war in Ukraine."
A Russian military investigator processes the scene after a shop was heavily damaged in shelling in the course of Russia-Ukraine conflict in Donetsk, Russian-controlled Ukraine, February 19, 2023. REUTERS/Alexander Ermochenko
For many of Russia's neighbors, the Russian invasion of Ukraine confirmed that they had been correct in their analysis of the threat posed by Moscow's regional ambitions, says Alice Billon-Galland, research fellow in the Europe program of Chatham House.
Before Russia's invasion, European states, such as France and Germany, had failed to adapt to new geopolitical realities in the region and Russia's actions would lead to a dramatic reappraisal of European security posture.
Indeed, European countries responded with significant increases in their defense budgets, most notably Germany committing to two percent of its GDP in Chancellor Olaf Scholz's recalibrating 'Zeitenwende' speech.
The fundamental decision by Germany is something Jamie Shea, associate fellow in the Chatham House International Security program, says he thought he would never see in his lifetime, bringing security policy alongside foreign policy for the first time in decades. However, Germany has remained slow to act on key decisions, such as Leopard tanks, often communicating good intent but failing to follow up with real action.
Russia's invasion has also strengthened NATO's deterrence posture and increased its forward presence in Eastern Europe. Putin has "managed the trick of pulling NATO closer than ever before" says Shea, with larger exercises, more readiness, and reinforcement strategies.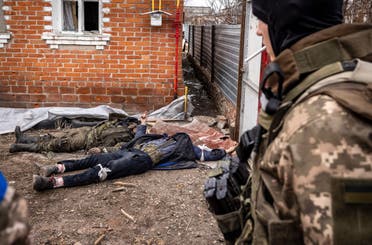 A Ukrainian soldier walks past the bodies of Russian soldiers laying on the ground after the Ukranian troops retook the village of Mala Rogan, east of Kharkiv, on March 30, 2022. Ukrainian forces on March 28, 2022 recaptured a small village on the outskirts of Ukraine's second-largest city Kharkiv, as Kyiv's forces mount counterattacks against a stalling Russian invasion. Members of the Ukrainian army were clearing and securing destroyed homes in the settlement of Mala Rogan, about five kilometres (three miles) from Kharkiv, after pushing out Russian forces.
Finland and Sweden, two countries which have until now shunned NATO membership to avoid antagonizing Russia are also set to join the alliance in a historic shift.
Nuclear weapon threat re-emerges
Since the end of the Cold War and the advent of US-Russian arms control, the threat of nuclear weapons has become less significant. However, the past year has seen regular nuclear weapons threats from Russia, some veiled, some on 'escalation,' and some directly aimed at NATO countries such as the UK.
Warnings have also emerged from the West, with US President Joe Biden declaring the risk of a nuclear Armageddon to be at its highest level in 60 years, bringing the nuclear issue firmly back to the forefront of discussion.
While the threats are not new, there is still a question over their credibility and how the West responds. They must be taken seriously, says Dr Patricia Lewis, director of Chatham House's International Security program, but she adds they are also "scare tactics" designed to "beat the chest" of Russian people and bully the West.
Putin placed his country's strategic nuclear weapons on 'high alert' at the start of the war – perhaps, says Dr Lewis, to give him combat readiness status domestically, enabling other senior Russian personnel to order their use. But as the phrase had not been used before, what it exactly means is still, perhaps deliberately, unclear. Many of the threats have been directed at use within Ukraine.
Jamie Shea, senior fellow for peace, security and defence at Friends of Europe, told Al Arabiya English: "Russian has talked about nuclear strikes but mainly to strike fear into western populations. In reality it has not moved its nuclear weapons or made real preparations for nuclear use. So nuclear deterrence is still working."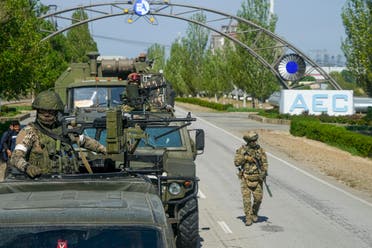 A Russian military convoy is seen on the road toward the Zaporizhzhia Nuclear Power Station, in Enerhodar, Zaporizhzhia region, in territory under Russian military control, southeastern Ukraine, on May 1, 2022. Inspectors from the International Atomic Energy Agency visited the sprawling plant in southern Ukraine on Thursday, Sept. 1, 2022 The IAEA's Director General Rafael Mariano Grossi highlighted the risks they had to deploy a team in the area amidst the war. (AP Photo, File)
"On the other hand, Russia has suspended its participation in the New START agreement between the US and Russia limiting strategic nuclear warheads. It is not allowing the US to carry out the treaty mandated inspections of Russian nuclear sites although the Russian foreign ministry says that it will continue to observe the warhead limits. This is not good news as nuclear powers need to be able to communicate with each other and be transparent about their nuclear weapons plans and activities to uphold strategic stability."
"So no immediate danger of nuclear use but more a long term risk if nuclear weapons treaties are not upheld and modernized and nuclear powers are increasingly in the dark about each other's intentions. International efforts to prevent nuclear proliferation and to rein in reckless new nuclear weapons states like North Korea will be impeded."
Russia's reputation
Putin's decision for a full, illegal re-invasion of Ukraine was a huge gamble which many Russia analysts say he has already likely lost by pushing the nation back out into the cold and putting the regime under threat.
James Nixey, director of the Russia and Eurasia program, says: "There is no going back after this. The war now is as much about Russia's regime survival as it is about the survival of Ukraine."
He adds that the strength and breadth of "unprecedented" economic sanctions imposed by the West were more than Moscow had expected, putting the idea of a robust "Fortress Russia" economy to the test.
John Lough adds: "While Russia has made short-term gains on inflated gas and energy prices, the sanctions have successfully targeted the heart of the Russian financial system."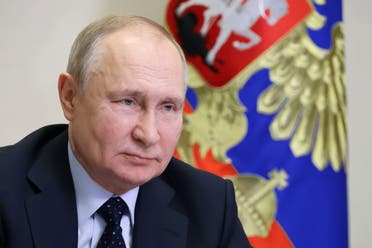 Russian President Vladimir Putin chairs a meeting with the cabinet via a video link at the Novo-Ogaryovo state residence outside Moscow on January 24, 2023. (Sputnik/AFP)
In addition, self-sanctioning by thousands of companies, from Apple to McDonald's, who either ceased or curtailed operating in Russia has effectively added to pressure. This exodus, coupled with a national 'mobilization' conscription drive in 2022, has also led to hundreds of thousands of Russian citizens fleeing the country, according to estimates. Observers say it adds to the "brain drain" upon an already ailing economy.
A new, united – and popular – Ukraine
Russia's invasion of Ukraine has taken a heavy toll on its citizens.
Project HOPE has been working in Ukraine since the Russian invasion in late February of 2022, supporting health clinics with supplies and medicines, reconstructing medical facilities, training nurses and doctors on trauma and wound care, and providing mental health support to those impacted by the war.
"Since the immediate moments following Russia's invasion, Project HOPE's teams have worked around the clock in difficult and often dangerous conditions to deliver the urgent medical relief Ukrainians need," said Project HOPE's CEO & President, Rabih Torbay.
FILE PHOTO: Ukrainian President Volodymyr Zelenskiy attends a news briefing in Kyiv, Ukraine, February 15, 2023. REUTERS/Valentyn Ogirenko//File Photo
"The damage caused by Russia's invasion has impacted every Ukrainian, young and old, across all walks of life. It has left a profound effect on the physical and mental health of an entire nation, especially children, and the people of Ukraine will continue to need our support for years to come."
However, the invasion has also united the country in a way not seen before.
Despite an estimated 14 million people displaced and with its infrastructure, energy, and transport networks under constant attack, Ukraine has remarkably remained functioning.
"Since the start of the war, Ukrainians have emerged and shattered the country's inferiority complex of being Russia's 'little brother.' They will never again live in shadow of the Russian empire and are confident it will collapse," says Orysia Lutsevych, head of the Ukraine Forum at Chatham House.
One man who has come to personify this unity and defiance is Ukraine's President Volodymyr Zelenskyy. One year into the largest military assault on Europe since World War Two, his journey from TV comedian to 'Churchillian' wartime leader and the 'revered face of European liberal democracy is extraordinary' says John Kampfner.
Zelenskyy's refusal of the airlift offered by President Biden early in the war represented a 'rebirth moment' for him and for Ukrainian politics, says Lutsevych.
"His decision to stand firm and face the horrors of war with his people, despite being headhunted by mercenaries, was hugely significant," she says.
Before Zelenskyy, Ukrainian domestic politics was highly contentious, with low public trust in political figures many of whom faced corruption allegations. The power of Zelenskyy, despite being from a Russian-speaking part of Ukraine, is that in 2019 he garnered support across different regions and generations around change, fighting corruption and bringing peace, says Lutsevych.
Ripping up the rulebook of international law
Russia's re-invasion of Ukraine breached the UN Charter and fundamental international law, says Chatham House International Law program director Rashmin Sagoo.
"As a UN Security Council member entrusted to maintain international peace and security, there was a sense of déjà vu with the US-led invasion of Iraq, and Russia's annexation of Crimea in 2014."
Ukrainian servicemen fire a shell from a 2A65 Msta-B howitzer towards Russian troops, amid Russia's attack on Ukraine, in a frontline in Zaporizhzhia region, Ukraine January 5, 2023. (Reuters)
But as observers have pointed out, the rule of law quickly swung into action with quickly coordinated global sanctions on an unprecedented scale catalyzing a domino effect of mass corporate exits from Russia.
Potential war crimes were reported. The International Criminal Court received the largest ever state party referral to open an investigation. The International Court of Justice demanded Russia "immediately suspend the military operations" in Ukraine.
Avenues via the European Court of Human Rights and domestic courts were primed, and the UN Human Rights Council started its own investigation using mounting evidence of Russian attacks on civilians and civilian infrastructure.
Russia's expulsion from the Council of Europe after 26 years of membership was unprecedented. But the move by Europe's largest and oldest intergovernmental organisation, established to protect human rights, democracy and law, could have other serious ramifications says Sagoo.
It means Russia is no longer bound by the standards in the European Convention on Human Rights. Russian citizens will no longer be able to rely on their Convention rights nor have redress to the European Convention on Human Rights for new cases.
Russia is also reported to be starting the process of withdrawing from other Council of Europe treaties.
"Irrespective of the strong political rationale, the move is likely to steer the country further away from accountability for human rights violations," says Sagoo.
Talk of war crimes, reparations, and punishment may seem premature, and some may doubt the efficacy of law to ever bring perpetrators to court. But Ukraine Foreign Affairs Minister Dmytro Kuleba told a Chatham House event: "This is the only tool of civilization that is available to us to make sure that in the end all those who made this war possible will be brought to justice and the Russian Federation… will also be held accountable for its deeds."
What is next?
As the world marks the next 12 months – what is next for the Russia-Ukraine conflict?
This week Putin vowed to continue with the war in Ukraine and delivered lengthy remarks laden with criticism of the Western powers, blaming them for the ongoing conflict. Putin also backed away from the New START arms control treaty and warned that Moscow could resume nuclear tests.
Flanked by four Russian tricolor flags, Putin told Russia's political and military elite that Russia would "carefully and consistently resolve the tasks facing us."
Ukrainian soldiers hold a flag at a rooftop in Kupiansk, Ukraine in this picture obtained from social media released on September 10, 2022. (Reuters)
Putin said Russia had done everything it could to avoid war, but that Western-backed Ukraine had been planning to attack Russian-controlled Crimea, annexed by Russia in 2014.
Chris Skopec, Vice President of Global Health at Project HOPE, said the crisis shows no sign of abating.
"Project HOPE has responded to countless emergencies over the 65 years we've been operating, and we know that a crisis of this scale will require a concerted and long-term effort to not only rebuild the country, but to put the Ukrainian people on a pathway to recovery," he said.
"365 days of full-scale war will leave scars that we cannot see in the form of mental health trauma and a health system that has been all but decimated."
Jamie Shea, senior fellow for peace, security and defense at Friends of Europe, told Al Arabiya English it is not easy to predict the future of wars.
"One year ago who would have predicted the heroic resistance of the Ukrainian David against the Russian Goliath or the military failures and disorganization of the Russian army?"
"But we know that the outcome of the war is not inevitable one way or the other but will be determined by what we do or do not do. It's the result of political decisions and choices."
"The more help that the western democracies give to Ukraine for the longest period of time and the more they are able to tighten the sanctions screws on Russia, the more likely that Putin will be driven limping from the battlefield."
"This is the best chance that the rules based international order will be strengthened and other autocrats will think twice before launching future aggressions."
What we know so far: China promises a 'political solution' on Ukraine war anniversary
Analysis: As Ukraine war enters second year, can US support last?
Pope Francis renews calls for Ukraine ceasefire, one year on
Read the full article here